Magento merchants are capable of installing the time-sensitive security fixes without applying the functional fixes and enhancements. As per the release notes 2.3.5-p1 is the security-only patch for fixing all the vulnerabilities detected in the last quarterly release.
Substantial Security Enhancements
This release includes over 30 security fixes and platform security improvements.
Implementation of 2FA for Admin accounts, Magento.com user accounts, and Cloud SSH access
Template filter strict mode is now enabled by default. It ensures that RCE attacks cannot be deliberately enabled.
Removed Data rendering for UI data providers
Support for new security.txt file.
Performance Boosts
Enhancements to customer data section invalidation logic
Multiple optimizations to Redis performance
Upgraded caching of results of SQL queries to inventory tables
Improvement of up to 25-30% to Quick Order add-to-cart performance.
Merchants can now use lazy loading to load images
Infrastructure Improvements
This release contains enhancements to core quality, which improve the quality of the Framework and these modules: Customer Account, Catalog, CMS, Import, Cart and Checkout, and B2B.
Removal of core integration of third-party payment methods
Support for partial-word search for Elasticsearch (new default search engine)
PayPal JavaScript SDK upgrade.
Elimination of the Web Setup Wizard
Composer update plugin
Seller-assisted shopping: This feature allows merchants to view the storefront on behalf of their customers
The following platform upgrades help enhance website security and performance:
PHP 7.4 support introduced and PHP 7.1 and 7.2 deprecated.
Provided support for PHPUnit 9.x and deprecation of PHPUnit 6.5
Provided support of Elasticsearch 7.6.x.
Provided support of MySQL 8.0.
Eliminated MySQL catalog search engine
Provided support of MariaDB 10.4.
Migration of dependencies on Zend Framework
Eliminated the core integration of the Signifyd fraud protection code
Eliminated the core Braintree module from the code base
This enhancement involves:
Support query pickupLocations for inventory in-store pickup functionality.
Query categories & categoryList for getting the list of categories and in support of pagination
Query reorderItems permits the customer to reorder the previous order into the cart.
Other Major Highlights of Magento 2.4:
Apart from these awesome features, the Magento 2.4.0 release also includes improvements in the vendor developed extensions like Amazon Pay, Braintree Payments, Klarna, Vertex and Yotpo.
For further information about Magento 2.4.0, you can find it in the Release Notes.
OUR PRODUCTS FOR MAGENTO 2.4.0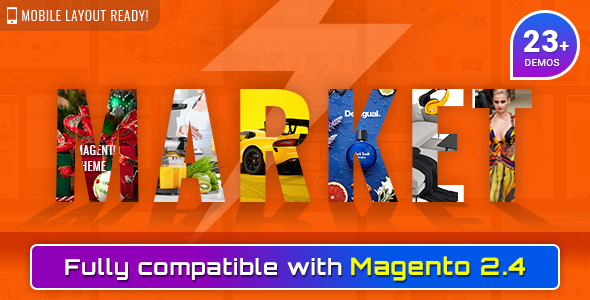 We already upgraded SM Market (one of the best-selling Magento Themes on ThemeForest) to be compatible with Magento 2.4.0. Other Magento 2 themes have been updating for Magento 2.4.0 Themes within this month. Don't forget to keep in touch with us to access the wide range of high-performance Magento 2 products quickly.
Need Help To Upgrade Magento 2 Store?
If you want to UPGRADE Magento 2 Store to utilize all new features, let our experts help you. We will help you move to the latest platform version via the Improved Import & Export Magento 2 extension.
All customization and specific features can be discussed, so don't be afraid to share even the craziest ideas with us. Please feel free to contact our custom work department.