Join Affiliate: Earn Money with MagenTech & ThemeForest
Wednesday, 14 September 2016 17:15
Join Affiliate: Earn Money with MagenTech & ThemeForest
-
3.7

out of

5

based on

3

votes
As you may know, MagenTech sells products including Prestashop, Magento, OpenCart, WordPress Themes & extensions on both our sites and Themeforest MarketPlace.
We're on top 100 popular authors on ThemeForest with a variety of themes, templates and plugins that're on top best-selling items.
If you're using our themes and love their designs and features, you can earn money from them by joining Envato Affiliate Program. You can earn 30% commission per sale for a new registered user on the ThemeForest Marketplace.
How Much You Will Get
| | | |
| --- | --- | --- |
| | Price | You Earn |
| | $84 | $25 |
| | $70 | $21 |
| | $48 | $14 |
If you refer to more new users, you can earn a lot.
How to Earn Commission?
Step 1: If you haven't registered the account at ThemeForest yet, go ahead and register. It is free to join the affiliate program, and there is no minimum sales level or other requirements.
Step 2: Get the affiliate link:
All things you need to to is to add the "?ref=your username registered" behind the details or demo link of the item you want to promote.
For Example:
The detail's item link: https://themeforest.net/item/market-premium-responsive-magento-2-19-store-theme/8945695?ref=magentech
The demo's item link: http://preview.themeforest.net/item/market-premium-responsive-magento-2-19-store-theme/full_screen_preview/8945695?ref=magentech
Step 3: Promote these links through your website, email list, social networks, blogs, articles, and banners... Once new users click to your link and buy this item, you will get commission
How to Drive Sales Traffic Effectively?
In addition to referring traffic to the Item details page & demo site, you can refer users directly to the checkout page by using the magic links below:
1. Checkout page with item added
With this link the user will be redirected to the secure checkout page on ThemeForest with the item added already to the cart. Users don't have to click on "Add to Cart" button anymore.
http://themeforest.net/cart/add_items?ref=magentech&item_ids=8945695

2. Adding the product with option to choose License & Support terms
After clicking on the link below the user will be redirected to the landing page with option to choose License (Regular or Extended) and Support Terms (6 or 12 months)
http://themeforest.net/cart/configure_before_adding/8945695?license=regular&size=source&support=bundle_6month&ref=magentech

3. Going to the checkout page through Item's page
This link gives the user the opportunity to see the item details page before redirecting to the checkout page with single license added to the cart.
https://themeforest.net/item/market-premium-responsive-magento-2-19-store-theme/8945695?license=regular&open_purchase_for_item_id=8945695&purchasable=source&ref=magentech

Banners & Marketing Materials
You can use screenshots and banners of items you want to promote to easily convert your users. To get the featured banners and screenshots, please go to the detail's item page >> Click to screenshot.
For Example:
Go to Market detail's page >> Click Screenshots to get images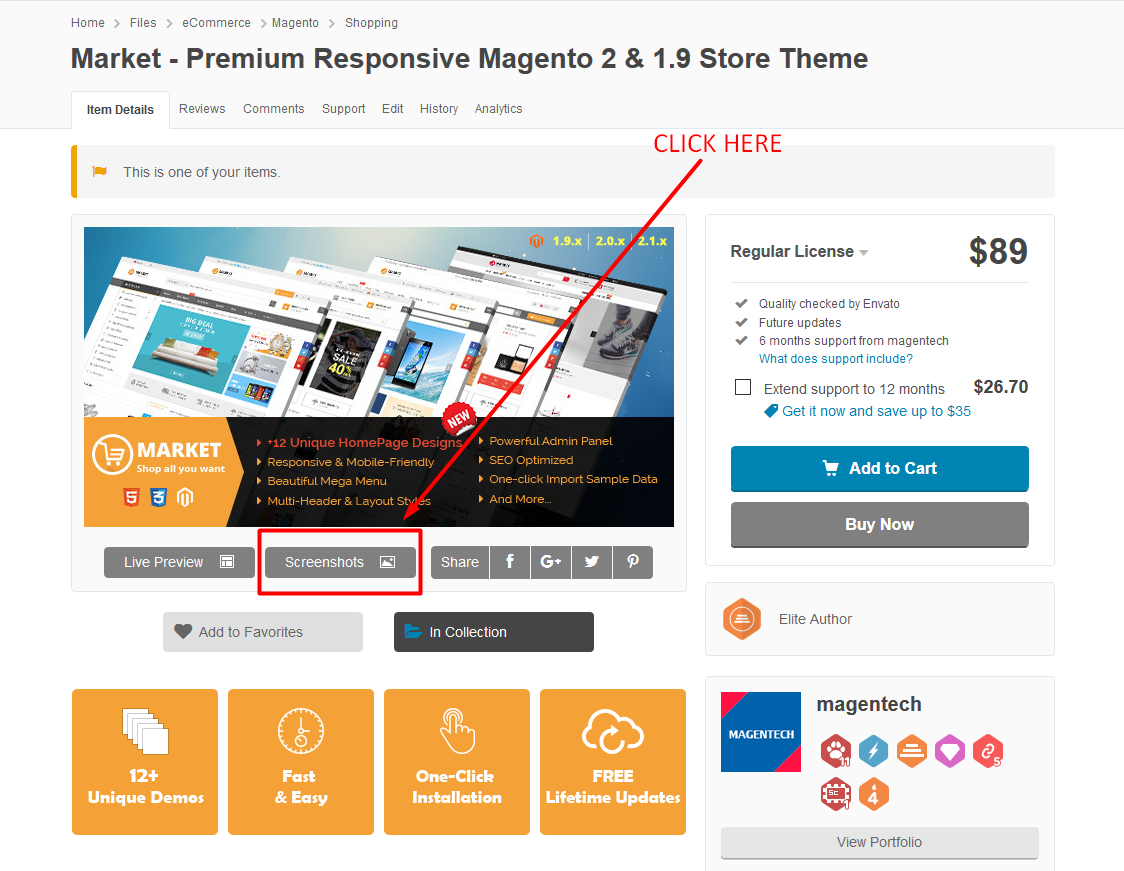 We've prepared Google Ads, Facebook Ads and banners with different sizes for Market - Premium Responsive Magento 2 & 1.9 Store Theme - It's one of our featured items.
MagenTech Supports Affiliates
MagenTech always hope to see our affiliates succeed and try to support them to achieve their goals. If you need assistance or other marketing materials for your promotion, please don't hesitate to contact us! We also have a remarketing budget for your audience, feel free let us know if you are interested in.
Let's make money with MagenTech Themes!
>> More details about the Envato Affiliate program