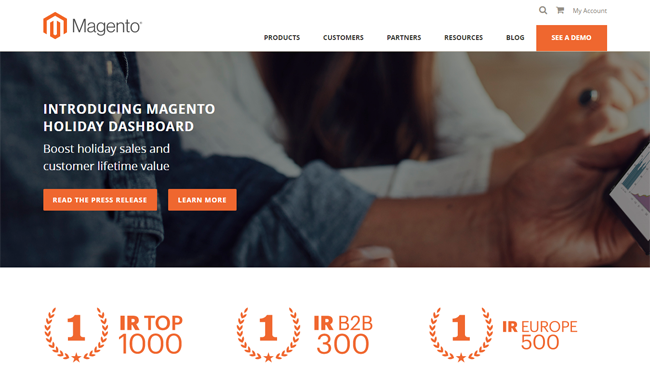 Ease of Use (8/10): Magento was designed for creating the great online stores. Magento's interface is also really easy to use and it comes with tutorial videos and documentation.
User Experience (9/10): Magento 2 brought many usability upgrades on both the front-end and back-end.
SEO Friendly (10/10): Magento is made to be search engine friendly. It supports to have a well-structured HTML and gives you full control over SEO assets such as page titles, meta data. Google sitemaps are automatically generated.
Features List (10/10):

Inventory management.
Handling shipping charges.
Coupon management.
Multiple payment gateway options.
API for web services.
5,000+ extensions available.
Built-in multilingual support.
Optimized for mobiles and tablets.
SEO features built-in.
Customer groups.
Product bundles.
Newsletter management.
Marketing tools.
Site management features.
Order processing.

Customer Support (8/10): Magento has many large Forums, these forums give you full access to share tips, tricks and get support from the dedicated Magento enthusiasts. It also provides special free and paid educational courses.
Pricing: It is free for the Community Editor. Enterprise Editor is pricey.
Best Suited For: Magento is the leader in the eCommerce shopping cart market. It is a flexible, feature-rich platform with full eCommerce features and suitable for wide range of store like multi-store, mega store, electronics store to fashion store.
Themes Available: Magento Community offers a free and premium theme collection to fit all of your different requirements. Besides, ThemeForest also is the best marketplace that provides gorgeous Magento themes. There are some top providers: Magentech, MeigeeTeam, Plaza-Themes, MagikCommerce.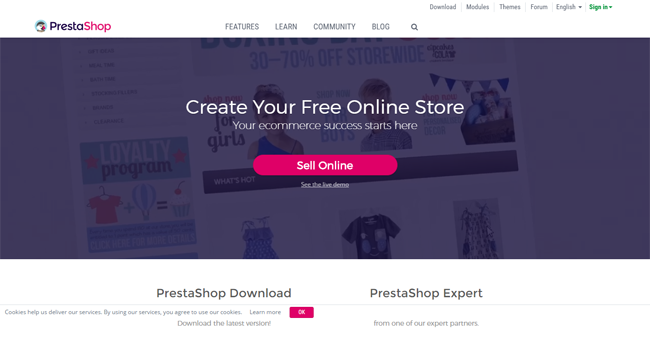 Ease of Use (8/10): With the help of templates like Smarty helps in easy installation & customization of PrestaShop
User Experience (9/10): PrestaShop has an easy administration panel which makes it a choice for starters.
SEO Friendly (8/10): PrestaShop provides easy replacement of meta tags and URLs, which helps you to optimize your website.
Features List (7/10):

Vast selection of customizable theme
PrestaShop Web Agencies
Designer Guide
Powerful Store Builder
Quick Install Features
Intuitive Interface
Ecommerce Analytics
Ecommerce SEO
Over 50 world-class payment solutions and gateways
Shipping configuration and partnerships
Configurable Tax Rules
Seamless customer checkout
Integrated customer service tools
Powerful set of integrations

Customer Support (8/10): PrestaShop hosts a diverse user community that comes together to solve problems via forums and services. To get in touch with PrestaShop's expert support team, you should consider to purchase a support plan.
Pricing: Free
Best Suited For: Retailers of all sizes. You can use Prestashop to set-up all kinds of online stores.
Themes Available: As PrestaShop is one of the most popular eCommerce platforms, PrestaShop offers over 1,500 free and premium templates and over 600 templates designed by certified partners. Other resources help you find the best Prestashop themes: Skyoftech, Posthemees, Presthemes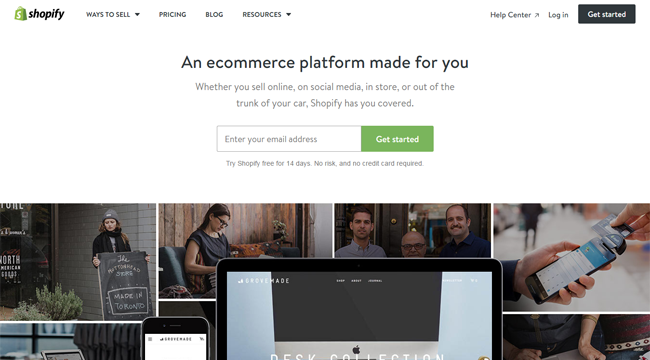 Ease of Use (9/10): Shopify enables you quickly build an online store through a few clicks, plus user won't need to worry about managing the security of your checkout. However, customization options will be severely limited.
User Experience (8/10): Shopify stores are beautifully designed, have a flexible technical infrastructure, and Shopify platform lets you create a prefessional store easily.
SEO Friendly (8/10): For SEO, Shopify also enables you to custom Meta tags, auto-generated XML sitemap with great customer support.
Features List (9/10):

Integrations with social media site, POS etc.
Automated tax rate calculations, which others don't provide.
Get Organized with Customer Groups
Secure shopping cart
100+ professional themes
Use your own domain name
Dig Through Your Store with Admin Search
Abandoned checkout recovery
70 payment gateways
Translate in 50+ languages
Integrate with Dropshippers or Fulfillment Centers
Shopify Mobile Ap - update your store or inventory
Search engine optimized (SEO)
Product reviews, Discount codes and coupons
Customize the Look and Feel of Gift Cards
Full blogging platform
Unlimited products
Unlimited bandwidth

Customer Support (9/10): Shopify has a dedicated support system with 24/7 support via phone, mail, and live chat. The online documentation, tutorials and forums are also available.
Pricing: Shopify offers a ready-to-use hosted solution with 14 days free trial. There are various plans with the cost between $9 and $179 per month. It depends on how many features you want in your online store.
Best Suited For: Shopify supports a wide range of industries, such as clothing/ fashion, jewelry, accessories, electronics, food & beverages, furniture & household, sports & recreations, toys, games, art & photography, etc.
Themes Available: Customers can choose from 150+ templates and hundreds of apps via Theme store and App store.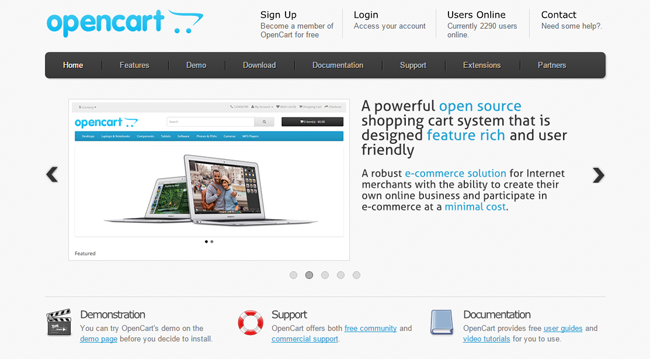 Ease of Use (8/10): OpenCart is one of the easiest platforms to install and set-up. OpenCart is open-source software that is hosted on a server you choose. You will meet a little trouble with the server if you are not a web developer.
User Experience (6/10): Basic designs and low variety. A lot of paid extension. High setup time. Complex for beginners.
SEO Friendly (7/10): OpenCart supports Search Engine Optimization features. It allows user to add an SEO title, keywords, and description for product, category, manufacturer and information pages. The URLs is also improved.
Features List (8/10):


Multiple language and multiple payments gateways support.
Allows product ratings, multiple tax rates, and customer segments.
Unlimited categories.
Unlimited products and manufacturers.
Sell digital products.
Multi-currency supported.
Multilingual.
Product reviews and product ratings.
Can be extended with templates (designs).
More than 20 payment gateways.
More than 8 shipping methods.
PCI compliant.
Multiple tax rates.
Shipping calculations (weight and size).
Discount coupon system.
Backup and restore tools.
Printable invoices.
Sales reports.

Customer Support (6/10): OpenCart's Community Support is free and everyone can access. Community support is limited and may depend on your knowledge of creating websites and programming skills.
Pricing: Free
Best Suited For: OpenCart is ideal for small to medium-sized businesses that are looking for flexibility and the power of useful tools.
Themes Available: There are 18,000 over themes and modules that are both commercial and free on OpenCart website. You can choose other hi-quality OpenCart themes from ThemeForest, Magentech, Pavothemes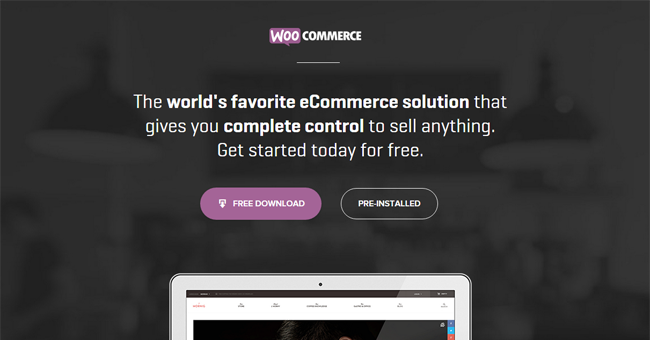 Ease of Use (6/10): WooCommerce works well with WordPress, which is ideal for merchants who are already familiar with the popular blogging platform.
User Experience (7/10): WooCommerce has an extremely intuitive admin panel that anyone can understand and manage.
SEO Friendly (7/10): Inherit the SEO features from WordPress. As you may know, WordPress is primarily a content management platform and it's renowned by SEO experts. It's easy to add and edit your articles as well as meta information to ensure that your pages get the best results on the search engines.
Features List (6/10):

Mobile friendly design
Sell physical products, digital products, software, even affiliated products from a marketplace.
Multiple payment gateways covered (PayPal, Stripe, Authorize.net, FirstData, PayFast)
Flexible shipping settings
Tax handling on sales, and automatic tax calculations.
Add multiple products and product categories.
Stock levels control.
Geo-location support.
Hundreds of free and paid WooCommerce extensions.
You have full control over your data.
Secure, audited code.
Generate all types of reports, such as incoming sales, stock levels, product reviews, overall store performance.

Customer Support (5/10): From installation to setup, web design, extensions, plugins and more, WooCommerce offers various of resources to help you resolve any issue. WooCommerce also provides clients with a possibility to get an expert support at a reasonable cost.
Pricing: WooCommerce is completely free to download and install, and there are no monthly fees.
Best Suited For: WooCommerce through WordPress is perfect for smaller businesses and those with less developing experience. Might not work for mid and large size businesses or for businesses looking to scale up soon
Themes Available: It has many free and paid extensions available for it so you can customize it to fit the needs of your online store on WooCommerce. You also find more free and premium WooCommerce themes from the trusted providers like SmartAddons, ElegantThemes, Studiopress.
To summarize, there is no a comprehensive eCommerce platform solution, which is best for all needs of business sizes. Each platform mentioned above has its advantages and disadvantages. To select the best fit for your business, you need to identify your budget, your shop's appearance, your target customers, etc. It will help you easily to find the suitable platform.
Thanks for reading this!