1.
Strongly impressive with the Front-end:

The first highlight of this theme that I want to mention is the difference on the home page. With unique design, the menu bar is arranged across the screen and can drop-down on subpages, banner slideshow supports full - sized image make impressive feeling for viewers.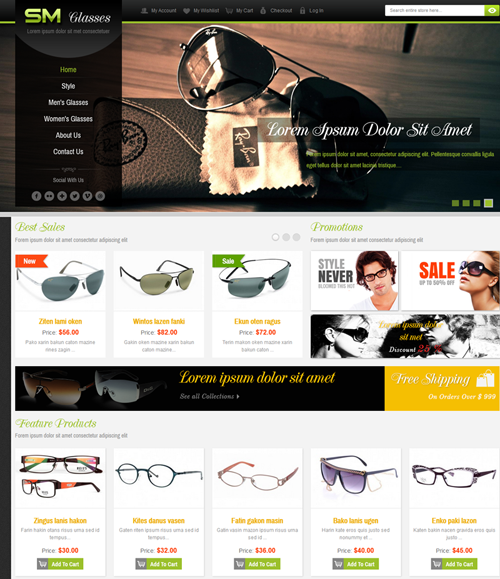 The
product
blocks are
logically
designed
with effects for each block, whenever you hover each block or each product will have different effects, but everything is still consistent.
So, does the strange experiences on first sight make you feel curious about this product? Now, If you want to explore more, take time to read more details about the outstanding features of this product.
2.
Outstanding Features:
SM Glasses -

Responsive Magento theme
An indispensable feature in today's technology age is responsive features. With the effort of the design team, SM Glasses is build be fully responsive and ready to display on any table and mobile devices.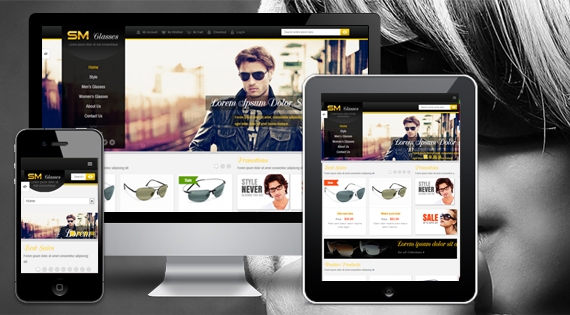 Sm Glasses - The choice of subtle colors:
With Cpanel, that allows you to configure various options of colors and typography such as: color text, color link, background color, google font, font-size, font normal.
We offer 5 other theme colors: yellow, green, pink, purple and cyan. They'll be expressed as follows: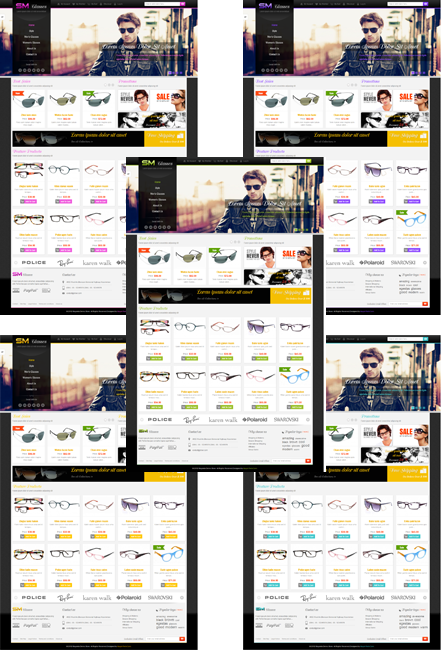 Various types of menu:
Super Mega Menu supports all types of content, it's designed to bring a new experience of easy navigation and useful features. Instead of displaying all submenu contents in a single column when user hover on parent menu, w
ith a wide mega menu, you will be able to display all the categories from your Catalog onto the menu.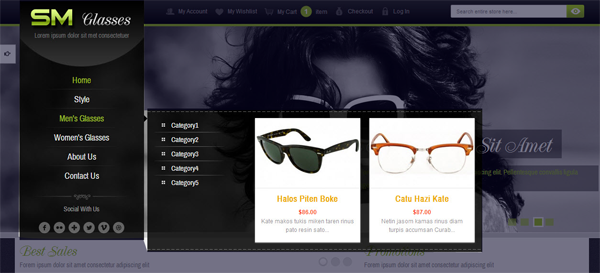 If you want to design a simple but subtle layout site , you can try Css Menu.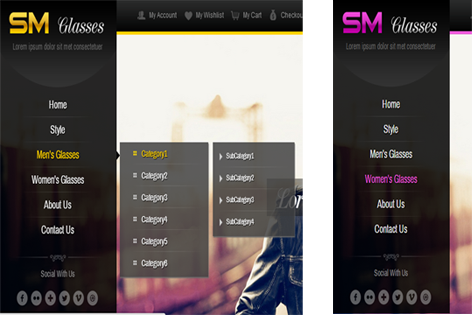 Slideshow:
Slideshow is easy to use and configure, allows to show image full width and can be automatically scaled to appropriate for screen types of different devices because it used technology responsive.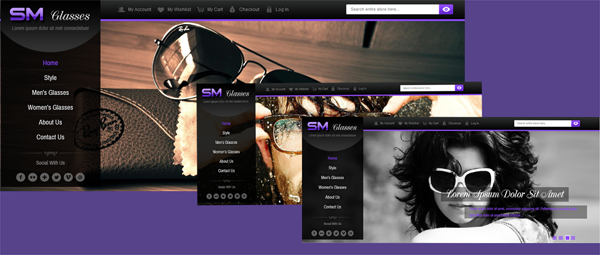 In addition, Slideshow of Sm glasses also has many functions such as transition effects, changing transition speed, number of photos...
Product list
List of products is showed right at homepage
with multiple block products such as Best Sales, Promotions, Feature Products with different effects.
Beside,t
he box products are designed
icons
allows customers to purchase directly from the home page or add to "
My Wishlist
" and product label features can create label for product groups.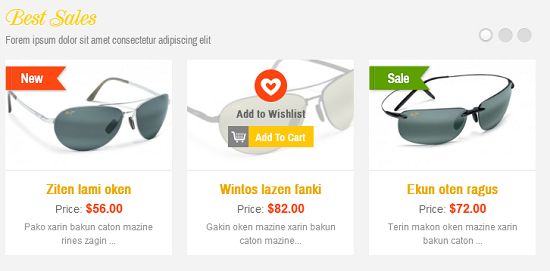 Go to the product page, the list of products sorted by 1 column, 2 column or 3 column and each product has different effects. The option on the top allows to sort by Grid or list, select the number of products to show per page, filter by price...
With CSS3 to show many animated effects and Cloud Zoom to display products, Sm Glasses becomes more attract customer. Just a few simple clicks, something become easy to change to the new look.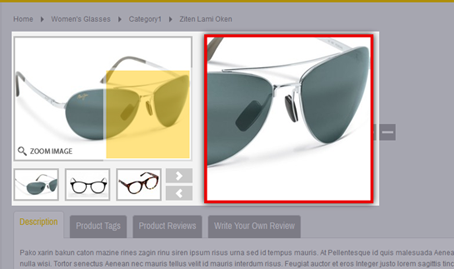 Multi-language, multi-currency supported

SM Glasses supports multi-language, mutil-currency and this can be easily configured and set up on back-end.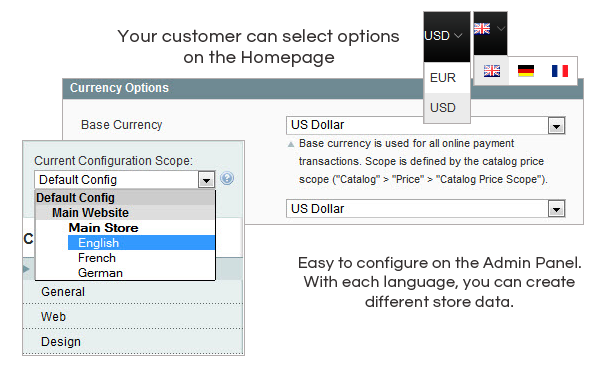 Contact us with full details:
Contact Us is fully integrated utility functions such as Address, Google Map, Description, Send Mail: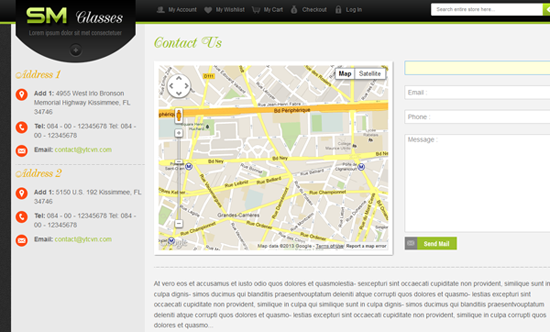 Product types:
SM Glasses offers users 6 different types of product profile to choose. You can select an appropriate one for different products to sell the products.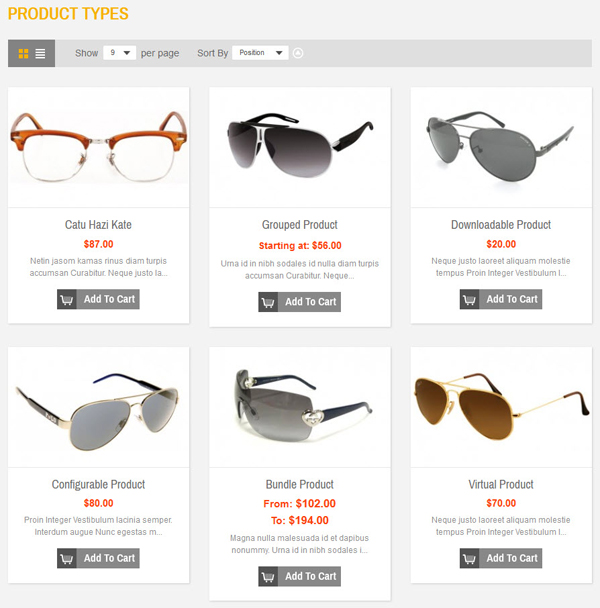 Admin panel options: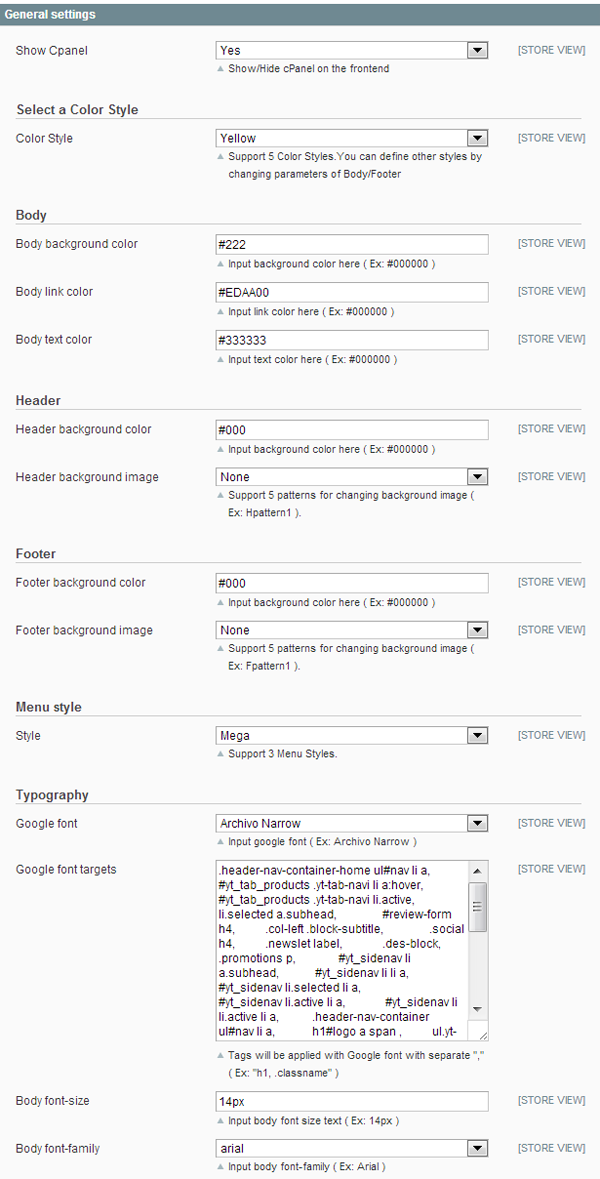 Is that enough to make you enjoy it? Let view our Demo to feel more!