Some tips to make an effective blog for your Magento store
Written by
Tuesday, 15 January 2013 11:34
Have you ever thought about creating a blog to promote your online sales yet? A blog with quality content about your products and your business could increase your sales dramatically.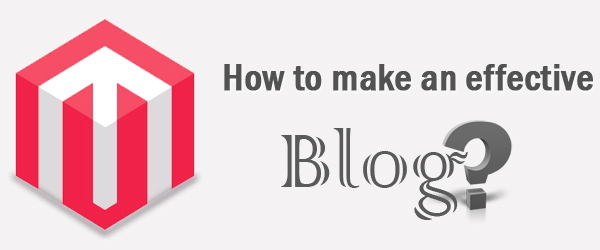 Therefore, I'll share you some tips to make an effective blog as a powerful tool for your Magento store.
1.
How to set up a Blog in Magento:

As you know, blog function is not available with Magento's default and you need to use a custom extension for it.

After consulted a few ways to accomplish it, I have found some extensions are much better than others. You can refer some as: Lazzymonks Blog Extension for Magento, Blog - Community Edition by aheadWorks. These extensions are free, quite stable. They not only make a quality blog but also build relevant SEO-friendly text links and support sales strategy.

You must be registered and logged in to get extension key. Then, go to your Magento Extensions manager and input the extension key to install.

You'll have a new menu item in your admin called "Blog" where you can create categories, manager blog post or customize the main blog setting such as blog title, Meta keywords, Meta description, Page layout…
2.
Build quality content for

blog

:
If a blog has good themes, stunning but boring content; no one visits their blog. Therefore, "Content is king".
Starting a blog is easy, but how to write a blog that people actually want to read is not simple. So, what bloggers can do to keep visitors coming back for more again and again after their initial visit?
Here are some tips for building the "King":
Put yourself in your customers to find what they need. The post in your blog must get answers to their questions and accomplish their goals, not yours. You must publish content they find useful and interesting that helps them solve their problems
The article may be around these topics:
• New products, comparing between different products, a tutorial or tips about your product …
• Share information related to your industry, your company.
• Inform changes in products, prices, and discount program, Thanksgiving program… Blog is a bridge to inform customers.
Notice: Sometimes you want to add the sidelines information such as hot news to increase the visitor, ranking in Google...But, keep in mind the purpose of your blog and your target customers; don't make it become landfill on the internet.
3.
Create corporate personality:
Give your blog a personality, not mixed with other blogs. That depends on how you write a blog, how you make layout blog, style blog…
4.
Should be done regularly:
Blogging is work; you have to look at it as an investment. It will be a mistake if you neglect it. So, take time to care your blog, make regular posts.
The posts are the tools to help your site increase search engine rankings. You need to notice some notes:
• Set the title: Should keep the title tag to should not exceed 70 characters. Try to make it stand out to get more visitors.
• Insert Keyword: Put keywords into your post but don't abuse too much.
• Insert a relevant link about product, news, others your site, relate article.
• Create attached photo's name: Set the image name similar to the keywords.
6. Make interactive to the customer:
Comment box: Make an interactive with visitors by comment box. Customers can share their feelings or inquire more about the product mentioned in the article.
Social network: Don't forget these strong tools to promote your site. You can create the items for customers to share, like on Facebook, Twitter...
7. Add banner ads or relevant article and last article for visitors to easily follow.
The above are some tips I compiled. Do you have any other ideas on how to use your blog to promote your business? Please share your thoughts below.
9

comments
Thursday, 18 December 2014 13:11

posted by Gonzalogem

afy8ao http://www.judysphotos.co.za/photos/GyQsugg163.html アグ靴 激安ショートブーツ http://www.kilifigoldens.co.za/Install/j4pkugg173.html ujwr http://www.onsiteit.co.za/img/uggrJDNK319.html アグ ブーツ インソール http://www.rvr.co.za/images/uggYMX441.html m9p4a3wmvg http://www.wheelmansa.co.za/Scripts/W1jXugg6.html アグ ブーツ 人気 http://www.mothwahaven.co.za/images/uggvdku0409.html 8ur http://www.loadcellworld.co.za/language/uggxRw76.html アグメンズ店舗 http://www.wheelmansa.co.za/Scripts/W1jXugg72.html pjhn8t http://www.kernes.co.za/controls/monclerZYkX223.html アグ 見分け方

Sunday, 07 December 2014 19:30

posted by visit your url

Really nice design and style and good written content , absolutely nothing else we want : D.

Tuesday, 20 May 2014 22:01

posted by try these out

I like this web site its a master peace ! Glad I observed this on google. "Observe your enemies, for they first find out your faults." by Antisthenes.

Saturday, 03 May 2014 23:49

posted by check out here

Some truly prize blog posts on this web site , bookmarked .

Thursday, 01 May 2014 16:46

posted by Stories

But a smiling visitant here to share the love (:, btw great design and style. "Reading well is one of the great pleasures that solitude can afford you." by Harold Bloom.

Saturday, 23 November 2013 10:23

posted by large stencils colours for painting a shed

It's an interesting and pictorially beautiful book. This will open the Auto - Trace Studio in a new window.
Mediterranean looks were achieved with the use of a ceiling paint treatment colorwash to deepen and warm the rest of the room.
Polyurethane Clear Coat Finish with the same sheen as your flooring.
Cut the Fabric to Measurements Measure off your windows. Interior
decoration and painting is something they are going to enjoy for some years to come and therefore selection of the
best expert in this area is highly essential to enjoy a trouble-free home decoration.

Tuesday, 22 October 2013 11:10

posted by Max pieczątki w Warszawie

At the party, use the stamps to continue the theme from the
invitation. Here we have a wooden cross with beautiful flowewrs at
the base of the cross. If you live near an orchard grove, get blood oranges or something exotic.
You are able to uncover single-hold punches to create confetti-like decorations or to produce holes for attaching ribbons,
yarn, or thread and tying things to your pages.

Stamps can be handmade from craft foam or carvable printing
blocks. It is a matter of following standard procedures of
the county's legal laws to accomplish divorce in smooth way.

Sunday, 20 October 2013 20:23

posted by Randal

Everything wrote was very logical. But, think on this, what if you added a littfle content?
I ain't saying your content isn't solid, but suppose you added a post title that grabbed people's attention?

I mean Some tips to make an effective blog for your Magento store is a little plain.
You should glance at Yahoo's front page annd see how they create news
headlines to grsb people interested. You might add a vjdeo or a related picture or two to ggrab people interested about what you've got to say.
Just my opinion, it could make your posts a little bit
more interesting.

Friday, 18 October 2013 03:00

posted by tabliczki znamionowe Warszawa

Hey theree just wanted to give you a quick heads up. The words
in your article seem to be running offf the screen in Ie.
I'm not sure if this is a formatting issue or something to
do with browser compatibility but I thought I'd post to let you know.
The design and style look great though! Hope you get the problem fixed soon.

Cheers