MULTI-SOURCE INVENTORY
Multi-source Inventory (MSI) is a vital improvement came up with Magento 2.3 is Multi-source inventory.
MSI allows merchant to manage all inventory sources without any third-party extensions or platforms. This functionality enables stock management in multiple locations so that merchants can properly reflect their physical warehouses in Magento system for fulfillment.
Additionally, MSI helps to improve checkout performance by incorporating a reservation system. Reservation refers to a mechanism that reserves some product quantity in stock instead of automatically decrementing inventory when the order is placed. This keeps inventory amount (product quantity) up-to-date without locking at the time of checkout and eliminates re-indexing and performance issues during peak order times.
PAGE BUILDER
Page Builder introduces an intuitive, drag-and-drop interface; a powerful set of content types like images, videos, and banners; and instant preview capabilities that enable non-technical users to take control of their content. Now you can create new pages, enrich products and categories, and launch content updates quickly and easily without the help of a front-end web developer.
A flexible grid system allows you to position page elements in a highly customizable way and in-context text editing streamlines the whole process. The appearance and behavior of content types can be quickly tuned to accommodate any design.
Page Builder is fully integrated with existing Magento functionality such as media gallery and widgets so you can incorporate these assets into your pages. You can also use Page Builder to create dynamic content blocks used throughout your site, and you can schedule content to go live in the future with content staging and preview.
PROGRESSIVE WEB APP
Smartphone penetration is expected to reach 90% in 2019 with nearly three quarters of consumers engaging in mobile shopping. Progressive Web Apps (PWA) enable merchants to deliver superior mobile experiences that boost conversion rates and increase engagement. PWA Studio provides tools that will make it faster and cheaper to build Magento-powered PWA experiences.
With PWA Studio, merchants can deliver app-like mobile commerce that is fast, integrated, and reliable. These experiences are proven to improve SEO and to drive 50% higher conversion rates, and 50% better page performance on average.
ADDITIONAL UPDATES
In addition to these new features included with the latest release, Magento 2.3.0 delivers updates and enhancements across the entire platform:
Magento Shipping – Added support for new fulfillment options and expanded global availability.

GraphQL – a flexible and performant storefront API with rich developer tooling that is integrated into the Magento API ecosystem. Developers will be able to more easily query specific data elements from APIs in a single request. GraphQL's focused responses provide faster and more predictable presentation results, even on slow networks.

Asynchronous & Bulk Web APIs – new scalable APIs enable better control over the timing and execution visibility of API calls, at greater volume, and without waiting for all previous operations to complete, all of which allow for faster performance.

Declarative schema – Ease the upgrade and installation process by allowing developers to declare the final desired state of the database and have the system adjust to it automatically, without performing redundant operations.

Improved indexing performance – Sharding and parallel processing of indexers reduces indexation times by over 60% to support larger sites and quicker product updates.

New security tools – Help further secure your stores and prevent fake logins with Google ReCAPTCHA and Two Factor Authentication.
For further information about Magento 2.3, you can find it in the Release Notes.
OUR PRODUCTS FOR MAGENTO 2.3.0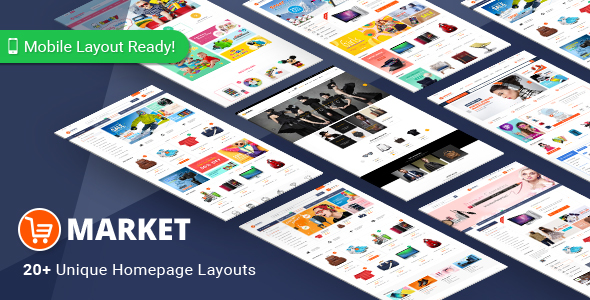 We already upgraded SM Market (one of the best-selling Magento Themes on ThemeForest) to be compatible with Magento 2.3.0. Other Magento 2 themes have been updating for Magento 2.3.0 Themes within this month. Don't forget to keep in touch with us to access the wide range of high-performance Magento 2 products quickly.
Need help to Migrate Magento 1.x to Magento 2?
If you want to migrate to Magento 2.3 from your old e-commerce store and minimize headaches, contact our support. We will help you move to the latest platform version via the Improved Import & Export Magento 2 extension. All customizations and specific features can be discussed, so don't be afraid to share even the craziest ideas with us. Please feel free to contact our custom work department.