According to this study, Magento accounts for 26 % of all eCommerce sites in the Alexa top one million sites. Equating to 9,063 sites more than any other eCommerce platform. It sees a 12,07% growth rate since the previous October survey. The figures also illustrate the growth of Magento.
VirtueMart becomes the second most popular eCommerce in the Alexa Top 1 Million by 9.5%. Following these two top platforms are Pretashop and Zencart. In that, Zen Cart losted 2,000 sites, it has decreased 4.541 sites to 2.515 sites. While both VirtueMart and osCommerce is also light decrease. Conversely, both Prestashop and Open Cart are significant increases.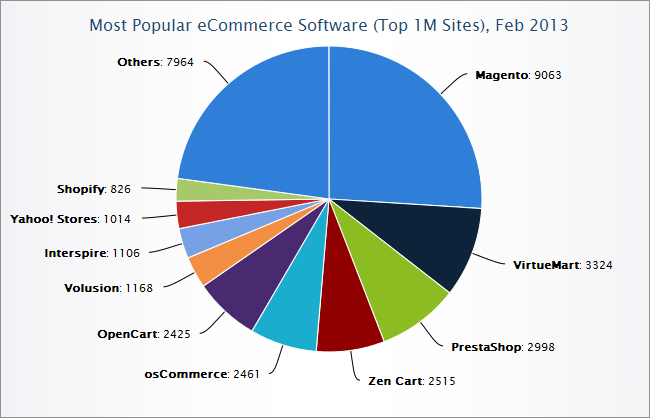 Most Popular eCommerce Software (Top 1M Sites), Feb 2013


This survey also looks at the top 100.000 busiest sites according to Alexa, 1,632 stores were detected.
The results of this survey show that Magento continues to have the most stores in the top 100.000 with 468 stores, an increase 65 sites compared to the previous survey 6 months earlier.
Second and third most popular in this study are the traditional Enterprise products IBM WebSphere and ATG.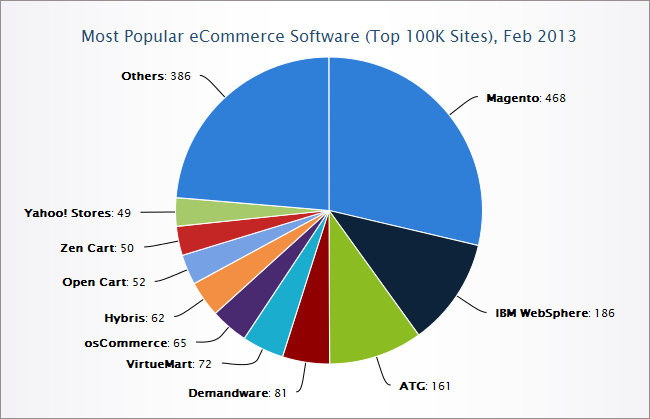 Most Popular eCommerce Software (Top 100K Sites), Feb 2013
Why do many merchants and developers choose Magento?
Magento took the leading position in every niche of eCommerce from small online stores up to enterprise companies. Which is actually not a surprise. There are many reasons why so many merchants and developers have been choosing Magento. Here are just a few of them:
Open source code that brings unlimited opportunities for customization and improvements
Magento integrated with various payments and shipping gateways, multiple currencies, languages and taxes available, etc.
Store management opportunities featuring multi-store function that allows merchants to run several stores within one Magento installation
Marketplace full of extensions (both free and paid) that can add virtually every possible feature.
The figures are taken from the following sources:
http://tomrobertshaw.net

http://www.magentocommerce.com/blog

Thanks for reading!