Bundled Third-party Extensions
From now you can connect your customer from Facebook account and your store easily, Magento 2.2 integrated the first third-party extension (Magento Commerce - Magento Social). Besides, this extension allows you to create a page with products from your catalog.
Security Improved and Developer Experience Enhanced
Magento 2.2 version came with the removal of unserialize calls and protection of this functionality to increase resilence against dangerous code execution attacks. Magento developer team also improved protection against Cross-Site Scripting (XSS) attacks.
Enhanced Developer Experience: Developers will appreciate improvements in debugging, customizations, and logging.
Technology Upgraded
Magento 2.2 Open Source supports:
PHP 7.1
Varnish 5
MySQL 5.7
All third-party libraries have been upgraded to the latest stable version.
Pipeline Deployment
In Magento version 2.2, the Magento's developers introduced a new way to deploy to production with minimal downtime for updating Magento store. The new Development system also helps you to easy management of configuration between environments.
Your build system does not have to have Magento installed on it. It needs only the Magento code but no database connection is required. Also, your build system doesn't need to be a physically separate server.
Performance Improvement
Thanks to the improvement in indexing, cart, and cache operations, your Magento store run smoothly and quickly with no visible impact.
Cart improvements enable a buyer to create a cart with more than 300 line items, and merchants can process a cart with at least 300 line items.
Varnish cache configuration now includes saint and grace mode to ensure Varnish is always presenting a cached page to a shop's customers.
Enhancements to cache invalidation logic and optimization of edge side include blocks for frequently changing data that significantly boost cache hit ratios.
For further information about Magento 2.2, you can find it in the Release Notes.
OUR PRODUCTS FOR MAGENTO 2.2.0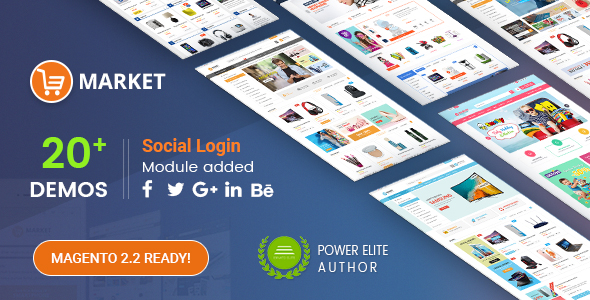 We already upgraded SM Market (one of the best-selling Magento Themes on ThemeForest) to be compatible with Magento 2.2.0. Other Magento 2 themes have been updating for Magento 2.2.0 Themes within the next week. To help you to easy to check the newest Magento 2.2.0 Themes, we created a collection of our best premium Magento 2 themes 2017. You can view it here. Don't forget to keep in touch with us to access the wide range of high-performance Magento 2 products quickly.
Thanks for reading this!