1.
IMPRESSIVE INTERFACE

SM Cool Showcase is designed with a model layout, supports many products displayed, allows users to browse through the slides by hover. Products are presented in an impressive style, accompanied photo, description, price, links to read more...

The images, texts and links for the SM Cool Showcase module are selected in the module parameters. All about module setting, effect setting, number of product display, parameter's product setting are both easily customize on Panel Admin. The configuration is built simply and clear, which the least experienced people about website can also easy to customize it.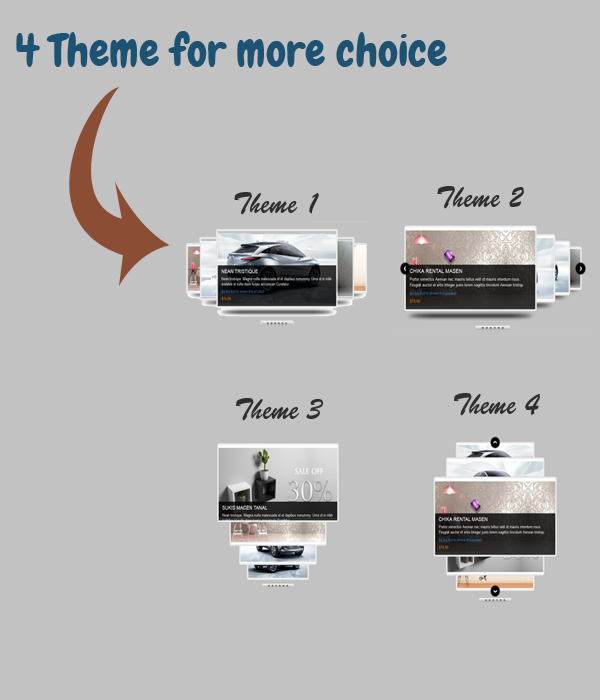 2.
HIGHLIGHT FEATURES

3.
MAIN FEATURES
Support Magento 1.4.x, 1.5.x, 1.6.x and 1.7.x
Fully compatible with IE8+, Firefox 2+, Flock 0.7+, Netscape, Safari, Opera 9.5 and Chrome
Support 4 themes to be chosen
Allow to change width and height of module
Allow to set open link with: New Window/Same Window/Popup
Allow to choose which categories to be showed
Allow to limit the number of products to show per instance
Allow to sort products by Position, Date Created, Name, Price, Random; ascending or descending
Support Multi-Module in the same page
Allow to change width/height of products's images
Allow to change max length of title/description of products
Allow to change color for title/description of products and title of categories
Allow to show review and price of products
Allow to add link to titles and strip HTML from description
Support many options for sliding effect: auto Play, speed, show Direction Navigation and/or Button Navigation
Support SEO, pre- and post- text for instance
Thanks for reading!