Slider Layout & Appearance
Module has a high aesthetic, easy to customize according to the user's purpose. With an eye-catching interface, you can totally use it on top of the home page or any other position you want for showing the highlights to attract the high attention of the viewer. You enable to choose your own layout style: Responsive, Full Screen, Custom or Fixed dimensions slider on back-end to create different styles for your site. Below are some examples: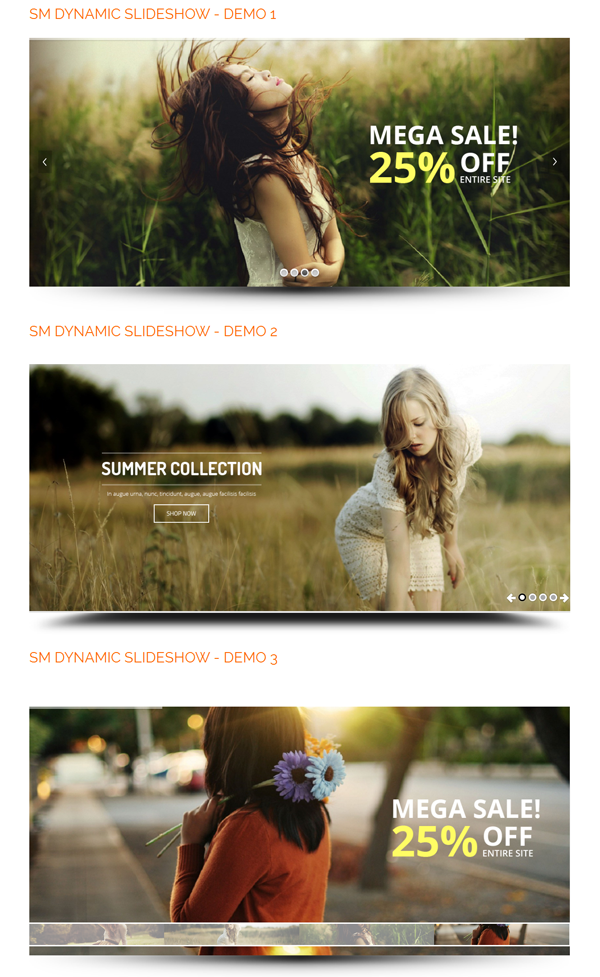 Fully Responsive Layout and Mobile Touch Navigation
This module is built 100% responsive and ready to display on any table and mobile devices. Specially, it supports mobile touch navigation with finger swipe that you have never experienced before.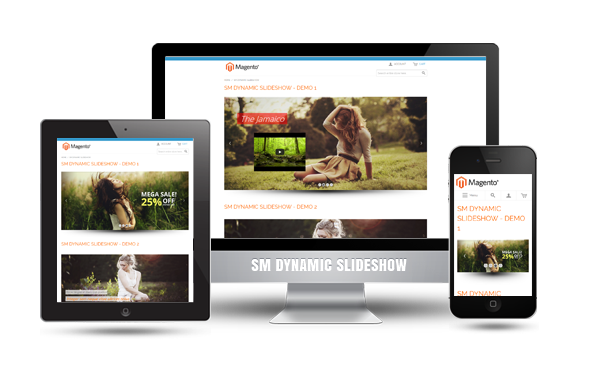 Navigation style
Theme has many choices about navigation style. Such as: Navigation Type: you can set "Bullet" or "Thumbnail"; Navigation Arrows: you can set "Bullets" or "Solo"; Navigation Styles: Round, Old Round, Old Square, Navbar...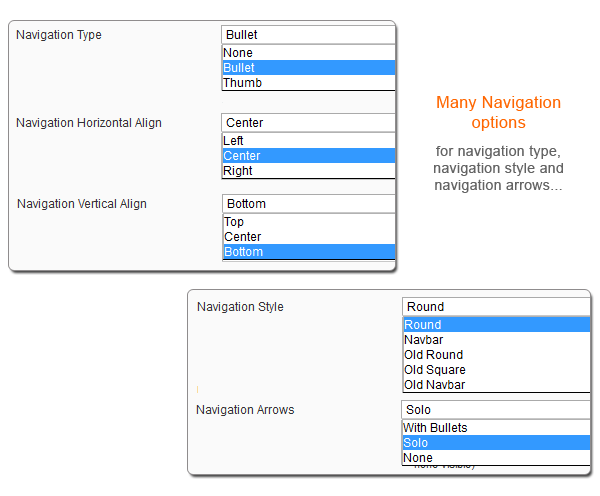 Various Customizable Transitions
Attracting more visitors with amazing +50 transitions, you can freely choose the favourite one via Admin Panel. Moreover, with clean and modern layout shapes, displayed products have chance to show their best features with high-quality images, title, brief description or prices for websites selling products.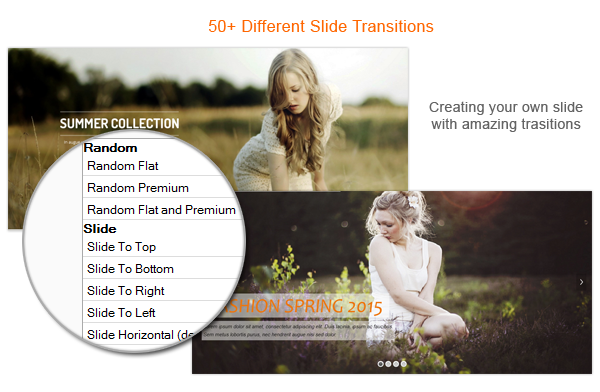 Drag & Drop Captions
Creating your own slide has become easier than ever with modern features like drag & drop slider builder, real-time previews, timeline view. Moreover, in each slider will have specific caption to bring a quick overview. Coming with dozens of features and animations are included, parameters can be configured in the Admin Panel, you can freely customize this module as you want.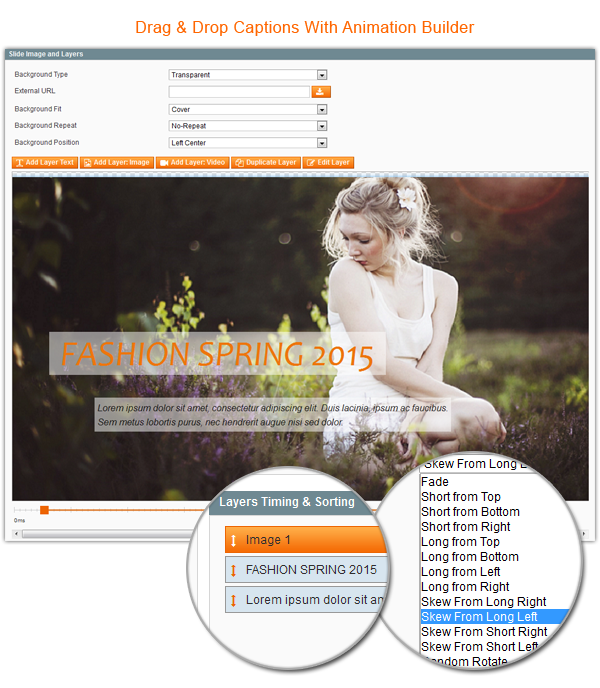 Many features are waiting for you to discover. Now, let's click the following links to see its best performance!

Full Feature List

Easy to create an eye catching product slideshow in a module position
Fully responsive layout
Easy to customize many different styles
Slideshow manager, add unlimited sliders and images
Slider style: Fixed width and Full width, Responsive or Custom
Allow to set Slide Height and Width
Allow to change Navigation arrows: Solo, Bullets OR None
Support Navigation types: Thumb, Bullet or None
Support Navigation vertical align: Center, Left, Right
Support Navigation horizontal align: Top, Center, Bottom
Insert slider as Magento widget
Captions, layers like video, image, html tags are supported
Mobile Touch Enabled
4 Slide Background Types: Image, Transparent, Solid Color, External URL
40+ Different Caption Animation Types
50+ Different Slide Transitions
Unlimited Rotation and Amount of Slots
Layers Timing & Sorting
Layer Animation, Layer Links & Advanced Params
Load Custom Google Font
Include Loading function
Interface of Admin Panel is clear, intuitive and easy to understand.
Thanks for readings!