1. Market - Premium Responsive Magento 2 & 1.9 Store Theme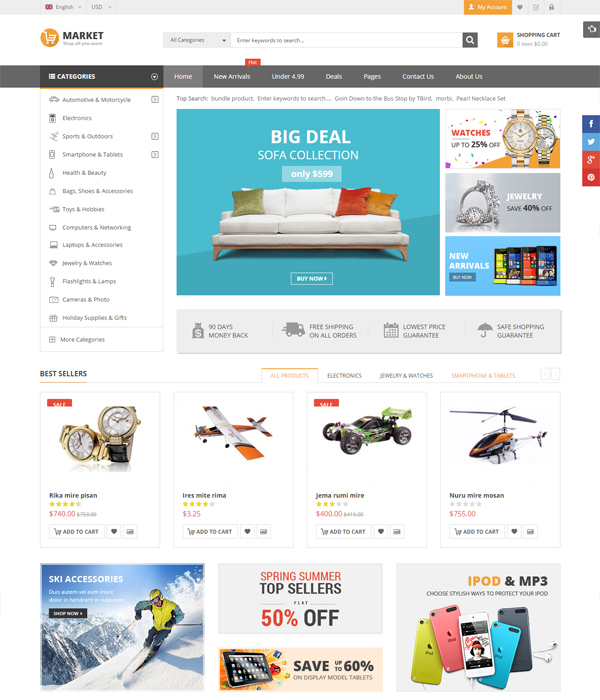 Market is a responsive Magento 2 & 1.9 theme which is fully customizable and suitable for online stores, especially for multi-category store with multiple branches and products such as online market store, supermarket store, digital store, hi-tech store, watch store, fashion store, clothing store, furniture store, book store, cosmetics shop, luxury jewelry & accessories store or mega stores. It was one of the best-selling themes in the last 8 months on ThemeForest.
2. Orion - Mega Shop Responsive Magento Theme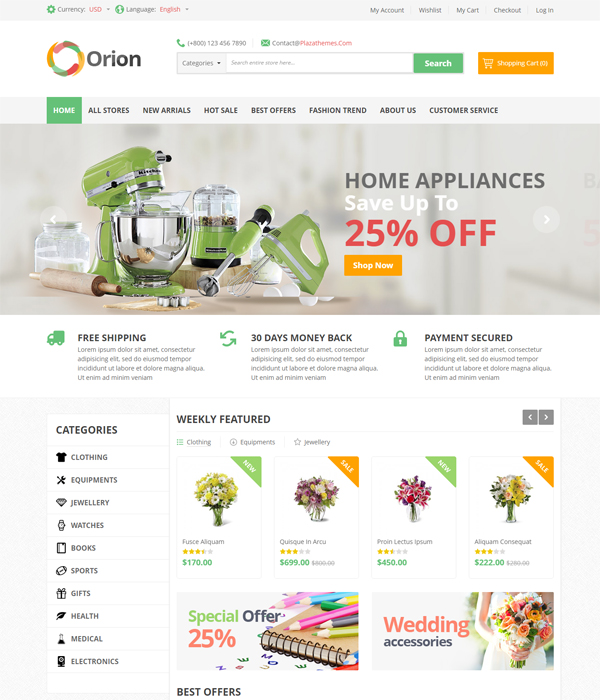 Orion, a premium Magento theme for your eCommerce business. It owns all essentials for an elegant store to set off your products and also your business success, well-structured layout and most powerful features. It's an excellent choice to sell a variety of goods such as fashion, clothes, electronics, books, sports equipment, sportswear, watches, medical equipment, gifts...
3. Maxshop - Premium Magento 2 & 1.9 Store Theme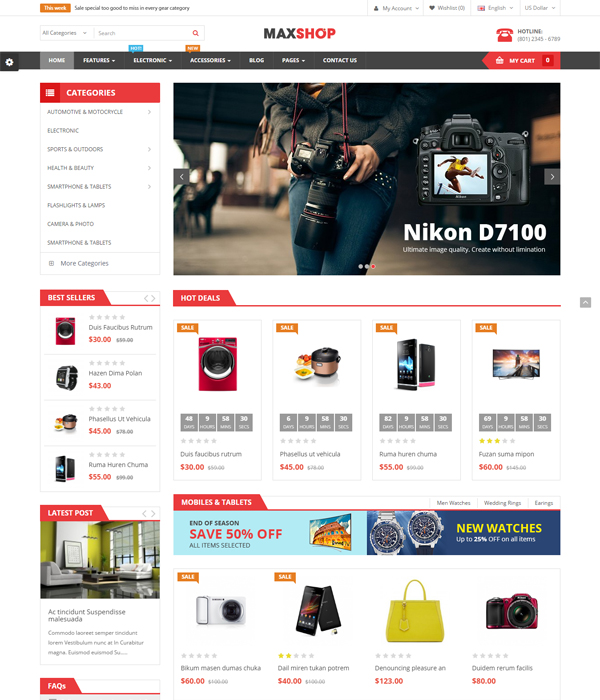 Maxshop is a Multipurpose Responsive Magento Theme with the eye-pleasing design. This responsive theme suitable for any large Magento store such as a digital warehouse, hi-tech store, watches store, men store, women store, clothing store, furniture store, book store, cosmetics shop, luxury jewelry and accessories store...
4. Electro - Responsive Magento 1 & 2 Theme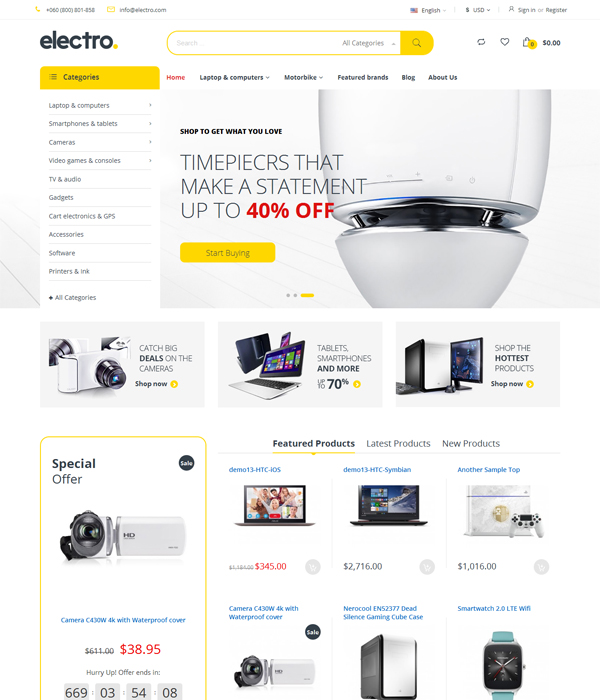 Electro is a perfect responsive multistore Magento theme with extremely customizable admin settings and unlimited colors. This theme includes 10+ extensions. It enables you to show Bestsellers, New, Featured, Random, Latest and Special products, customizable multi tabs and multi rows easily and quickly. Suitable for every type of store. Great as a starting point for your custom projects.
5. Shoppy Store - Responsive Magento 2 & 1.9 Theme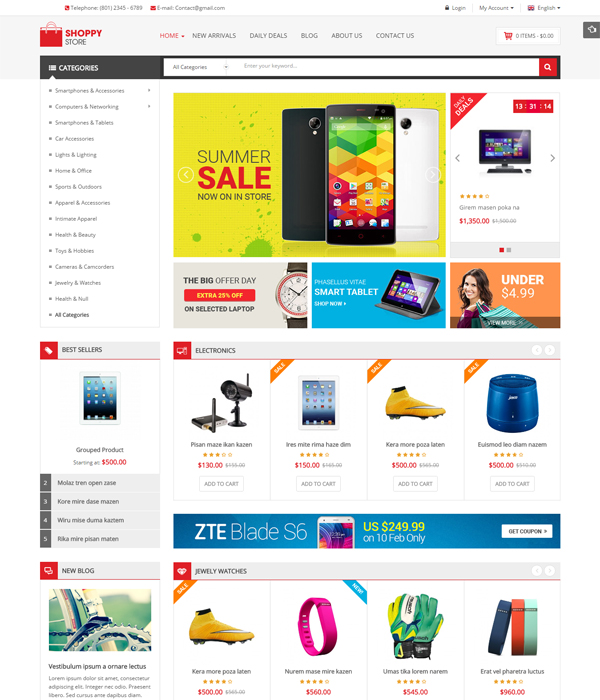 Shoppy Store - a new responsive Magento theme comes along with a neat, eye-catching and straightforward design that has everything you need for the digital store, hi-tech store, watch store, men store, women store, clothing store, furniture store, book store, cosmetics shop, luxury jewelry and accessories store. Top Elite Author on ThemeForest developed this Magento 2 theme.
6. Supermarket & Deal - Responsive Magento Theme
Supermarket & Deals is a package of 6+ Best Premium Magento Themes and specially designed for Supermarket, Groceries & Multipurpose. This theme includes various styles: creative, unique, flat, material design, clean, elegant, minimal, minimalist, simplicity, generic, universal, outstanding, eye-catching. Let's give it a try in a real action.
7. Flexshop - Multipurpose Responsive Magento 2 Theme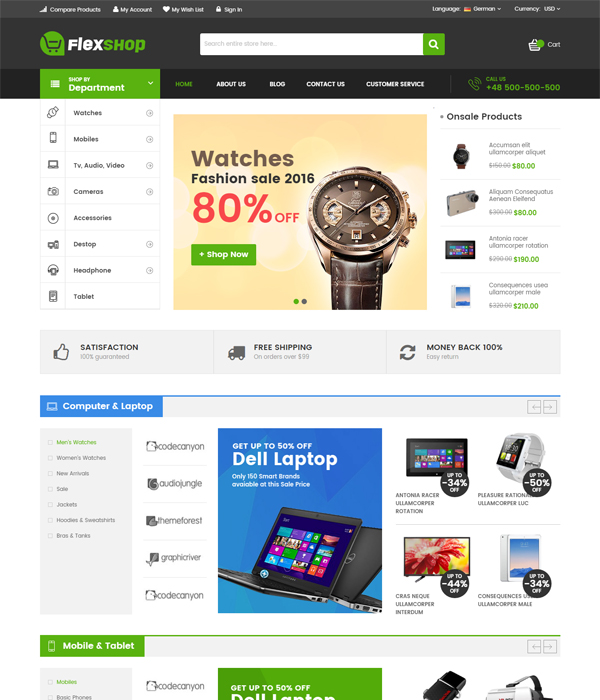 Flexshop Digital Magento 2 Theme is a simple, clean and fully customizable responsive premium Magento Theme. You can choose your favorite layout from 4 dynamic homepage layouts.
Flexshop Theme is incredible flexibility and functionality. This theme provides fully functioned with MegaMenu Customer, Vertical Megamenu, Daily Deal, Category Top, Category Tabs Slider, Product Tabs Slider, Quick View, Ajax Layered Navigation, Blog, etc. Thanks to a large number of function, Flexshop Responsive Magento Theme can be adapted to any other project quickly and easily!
8. Catchy - Multipurpose Magento Theme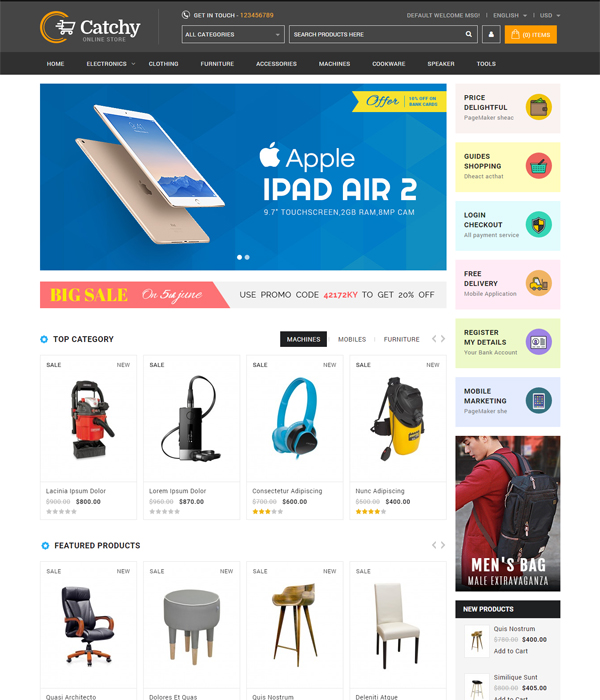 Catchy Magento Theme is specially designed for mega shop, electronic, jewellery, cosmetic, fashion designer clothes, beauty store, furniture, home appliances, kids and Multipurpose stores. Catchy Magento Theme is looking good with colors combination and layout. All sub pages are customized. It is very nice with its clean and professional look.
9. Bigmart Pages Builder Magento 2 & 1 Theme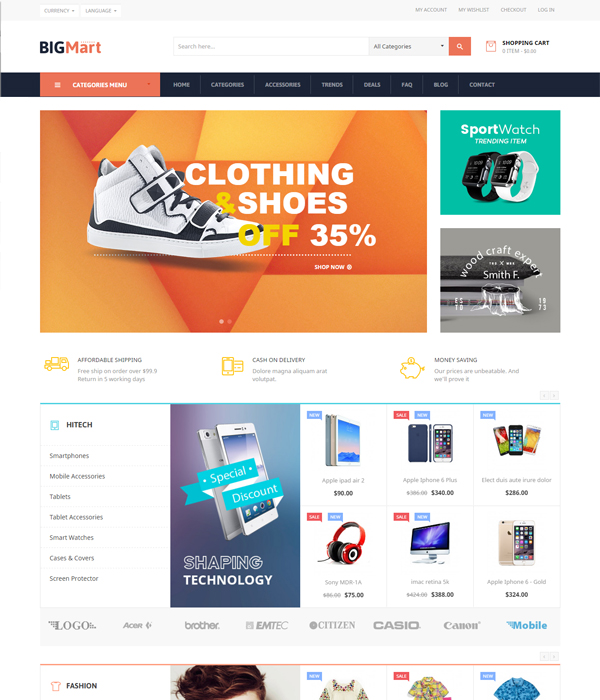 Bigmart is a modern, elegant and eye-catching Magento theme. Keep product orientation in mind, this theme is designed with a white background, eye-catching slider, neat and clean layout. This theme is perfect for Hitech store, Smartphones & Mobile Accessories, Tablets & Tablet Accessories, Fashion Store, Makeup store, Perfume store, Beauty Shop, Baby Care, Home Appliances, Kitchen Tools and Gadgets, Furniture & Decor, Food & Fruits store.
Bigmart is built with an intuitive drag n drop Magento page builder. The Magento Page Builder helps you to save a lot of time when creating your theme. By drag and drop content element, you can create your expected layout easily.
10. Ozeo - Responsive Magento Theme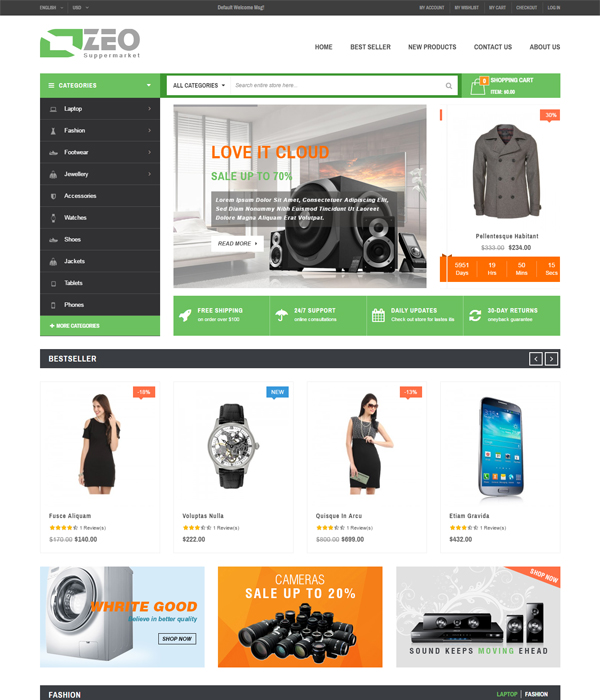 Ozeo Magento Theme owns a clean, elegant and high-tech look, which is meant everything such as fashion, accessories, fashion for men, fashion for women, workwear clothing, construction equipment...
Ozeo brings new experience with excellent features like Responsive - perfect compatibility with current browsers and works well with tablets and smartphones.
11. Arion - MultiStore Responsive Magento Themes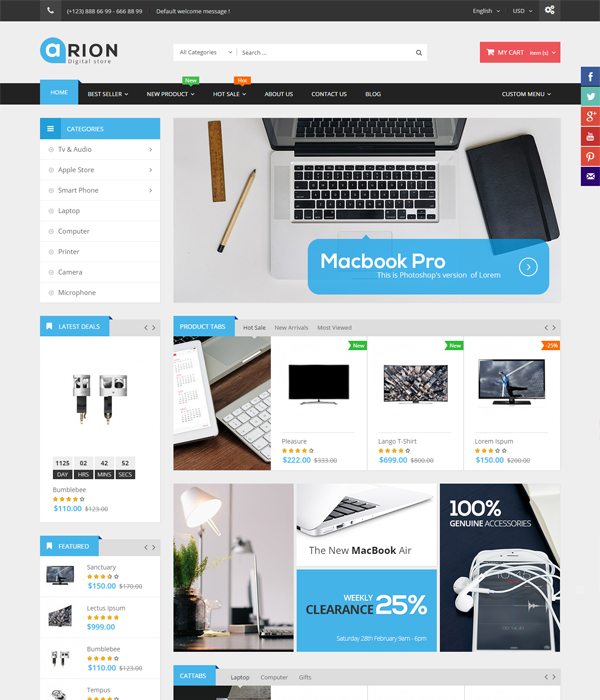 Arion - MultiStore Responsive Magento Theme is one of the best design Magento themes 2015 with 3 store homepages and 9 skin colors. If you want to have a unique and attractive design and try to make your way among numerous store owners, Arion is a great starting point for you.
12. Muto - Mega Shop Responsive Magento Theme
Muto is 100% Responsive Magento Theme with a luxurious and elegant design which everyone will be attracted at first sight. You can sell everything on this mega shop theme: from fashion, accessories to digital, home decoration, wines, electronics, gifts and toys.
The highlight in the homepage is the slideshow and vertical mega menu. It's charming and has two styles: full width and boxed, smooth text and transition, easy to customize in admin.
Hopefully, this article will help you find the best useful Magento theme to build your eCommerce site. We wish you have a great experience with them.
If you liked this article and found it helpful, so please subscribe to our blog for more Magento recommendations and tutorials.
Thanks for reading!