1. One Step Checkout - Smart Responsive PrestaShop 1.7 Module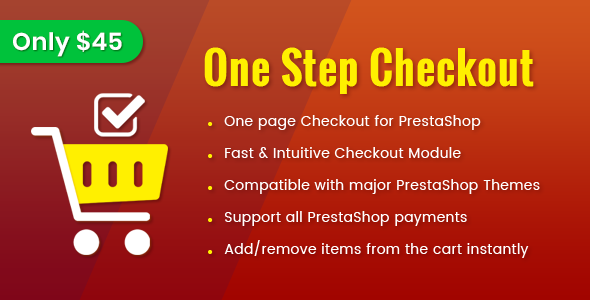 One Step Checkout is a Responsive One Page Checkout extension for PrestaShop that simplifies the checkout process and makes it much easier, simpler and faster for customers by removing unnecessary checkout steps. Furthermore, this module is completely responsive, that is compatible with mobile resolutions, so that you will also have covered one of the most important aspects: having a good shopping experience in mobile formats.
2. Vertical Mega Menu - Responsive Module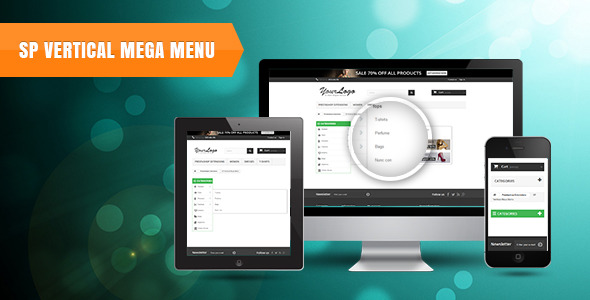 Vertical Mega Menu is designed to help you to show vertical category navigation with subcategories follow the columns are configured. In addition, you can add a new menu item and add a link to this. One of the interesting things about this module is it enables you to show thumbnail icons for parent menu item.
By showing all navigational options at a single glance, we are sure that your visitors can easily find what and where they want without having to spend a lot of time.
3. Add To Cart Fly Effect, Hide Popup and Other Animations Module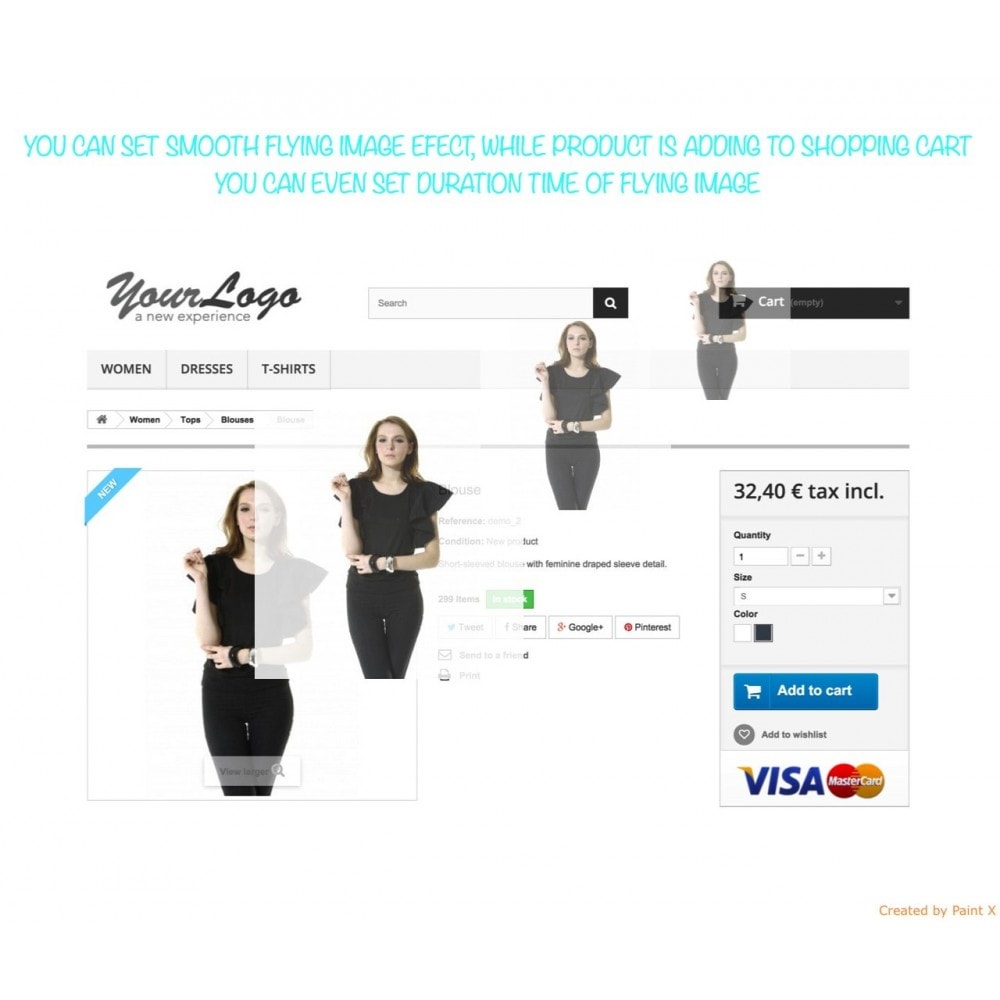 Module to set add to cart animations like fly to cart effect or others. You can even disable popup message after a product is added to cart, or set custom message with custom locations to display.
4. Instagram Gallery - Responsive PrestaShop Module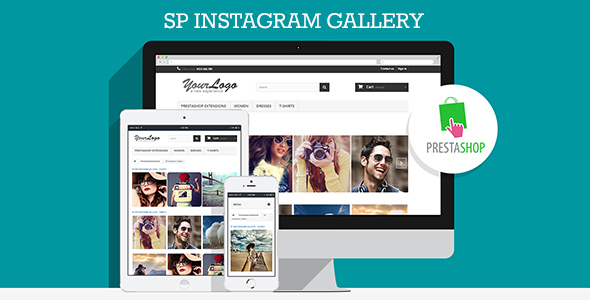 am Gallery – is a very simple module to install and configure. It allows you to display photos from an Instagram account. Your photos will be displayed as a gallery with a grid layout and pop-up image when clicking on the image. Besides, there are 2 Instagram styles for you choose from.
Especially, the user-friendly back-end lets you easily and absolutely control any parameters. You totally configure the number of columns and rows to show on front-page, Instagram style, effect and etc. In addition, the module is built a responsive layout that helps your collection display beautifully on all device screen sizes.
5. Manufacture Slider - PrestaShop Module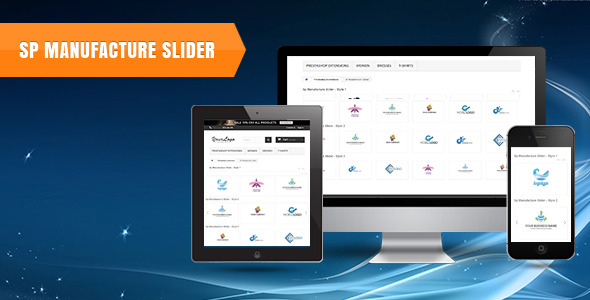 Manufacture Slider is the best responsive PrestaShop module for logo or brand showcase. There are 3 brand slider styles for you choose from. Besides, its module can be placed anywhere on your website.
The module lets you totally control every item so you can set the title, short description, and link to brand's detail page. The user-friendly admin panel makes it easier for you to control any parameters provided. The module will perform as exactly as your configuration.
6. PrestaShop SEO Manager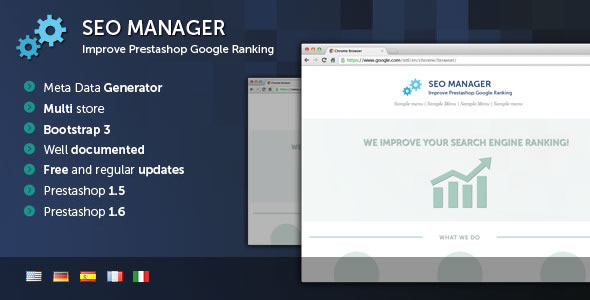 This cheap PrestaShop SEO Module provides a comprehensive tool for generating the meta title and meta description fields for your product pages and other shop links with just 1 click. Use relevant keywords to your business to improve your store ranking in the Search Engine Results Pages (SERP). This PrestaShop module is the result of our hardworking development team and constant feedback from users and buyers for the past 3 years.
7. Home Slider - Responsive PrestaShop Module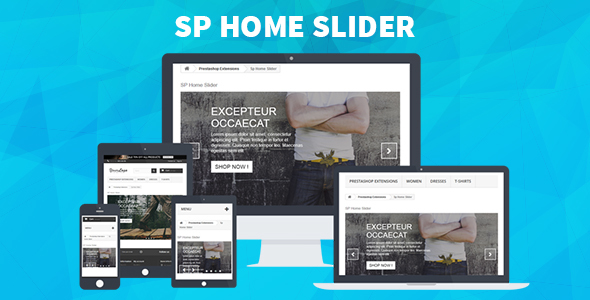 Creating the captive homepage with our new responsive PrestaShop modules – Home Slider features tons of unique effects and a lot of options to help you create your own attractive slider.
Especially, this module has a fully responsive layout and adapts perfectly for all device resolutions. In addition, dozens of features and effects are included, parameters can be configured in the back-end, you can customize this slider with our convenient drag & drop item... as you wish.
8. Search Pro - Responsive PrestaShop Module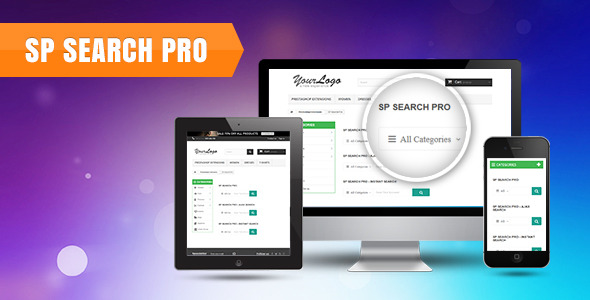 Search Pro will help customer easily find exactly what they are looking for. The responsive module comes with 3 search types: Basic Search, Ajax Search, and Instant Search. With the Basic Search form, you type the mane of product and search product you want. OR just simply by typing the product name and the results will be shown automatically with Instant Search. Especially, when a customer types their query in the Ajax Search, it displays the title and image of product list matching to their query.
9. Blog for PrestaShop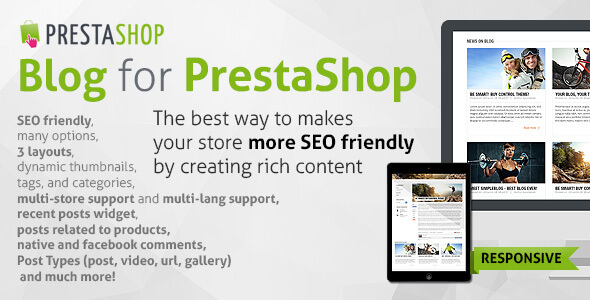 If you created a lot of PrestaShop stores and you had many requests for simple and SEO Friendly mechanism to create more content in stores. Something like... Blog for PrestaShop - you don't want install WordPress, you want to have something simple. and there is... PrestaHome Blog for PrestaShop - easy to manage, powerful solution, which helps you to create more content in your store.
10. Deal - Responsive PrestaShop Module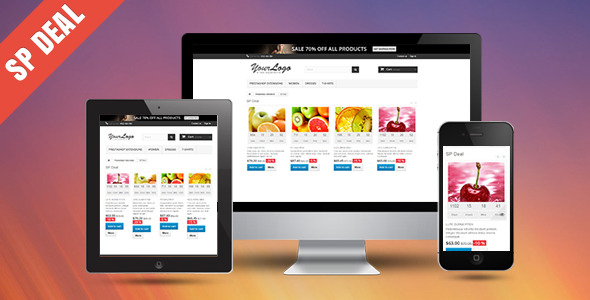 Deal is released for showing special products with a countdown timer. This module allows you to count days, hours, minutes and seconds in reverse order on products on sales. You freely choose to get these products from selected category or import ID product. This module can be used for sales and promotions as well as for other different purposes. It will encourage customers engagement and increase the conversion rate for your PrestaShop store.
11. Listing Tabs - Responsive PrestaShop Module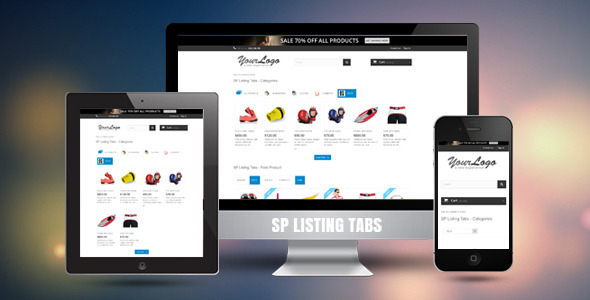 Listing Tabs is designed to bring a cool, fresh and inspiring experience to your store. With unlimited functions for showing multiple categories of your store or all products in a category according to tabs. Moreover, you can show more products in each tab with Load more button without moving from page to page to see other products. Just one click and other items will appear very quickly with the assistance of Ajax.
12. Quick View Module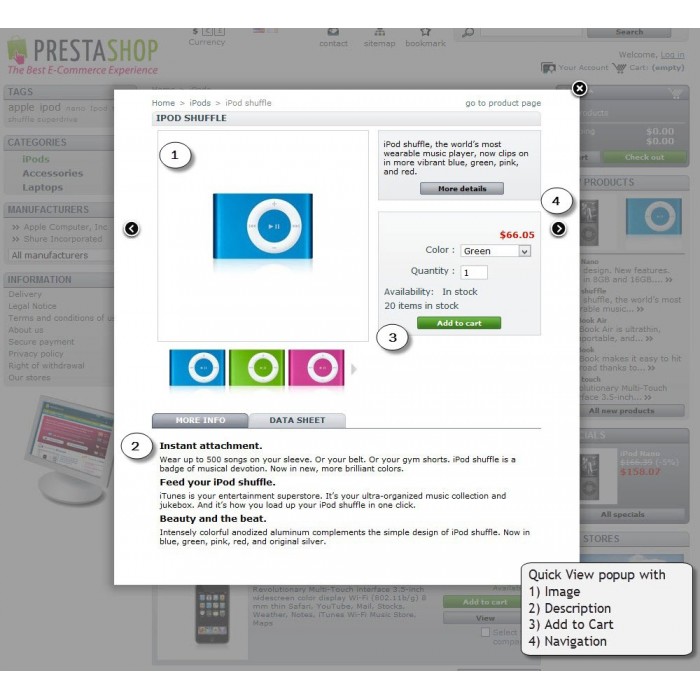 Quick View module lets customers view all information about products right where they are, on category or homepage, without referring to product pages directly. Install Prestashop Quick View module that displays a popup window on click with product image, description, tabs and Add to Cart button. Users may add products to their carts and navigate through the store assortment, staying on the same page.
13. Super Category - Responsive PrestaShop 1.6 and 1.7 Module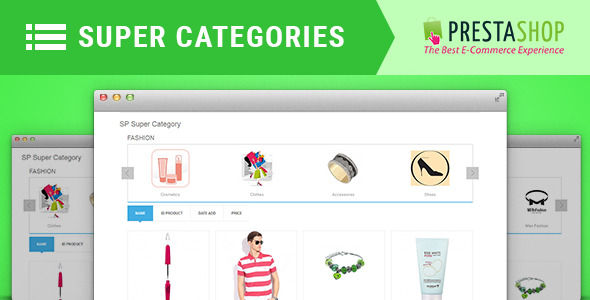 Super Category supports for showing multiple categories as a slider and sorting most popular products in the main category such as Name/ID/Date Add/Price/Sale come along with tabs
At first sight, you'll be impressed by clear stunning slider along with the professional arrangement of sub-categories in them. With the option of order product according to Tabs, this allows you to show multiple products in the main category in limited space. Especially, you can show more products in category with "Load more" button.
14. Most Viewed - Responsive PrestaShop Module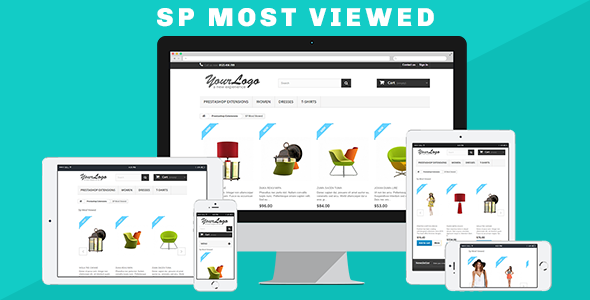 The Responsive PrestaShop Module is an ideal solution for showing the most viewed products in your store. It enables you to display the most viewed items on all the pages.
Especially, this module has a fully responsive layout and adapts perfectly for all device resolutions. In addition, dozens of features are included, parameters can be configured in the back-end, you can customize this slider with our convenient drag & drop item… as you wish.
We have just introduced you the best must-have PrestaShop add-ons to every online store. We hope that with these 14 Must-Have PrestaShop Modules To Your Online Store, you can quickly and easily create your own professional online store website.

Thanks for reading!