1.
Main Feature
Support Magento 1.4.x, 1.5.x, 1.6.x and 1.7.x

Fully compatible with IE8+, Firefox 2+, Flock 0.7+, Netscape, Safari, Opera 9.5 and Chrome

Allow to set width of module

Support 4 themes

Allow to set open links in: New Window/Same Window/Popup

Allow to choose which category source to be showed, and by which order: Position, Created Date, Name, Price, Random

Support Multi-Module in the same page

Allow to set number of products, max rows and max columns when showing products

Allow to change width/height of images for products: small and large

Allow to change max length of title/description of products

Allow to add links for titles and strip HTML from descriptions

Allow to show brief description of products and Read More button

Allow to show reviews, price and Detail button

Support SEO, pre- and post- text with each instance
2.
4 theme skins available:

Designed with 4 theme skins to fit both horizontal or vertical expanding type, SM Listing offers you more choice. Depending on what your product is and which way you want them to stand out...then you can make the appropriate choice.

In each theme, products is appeared in different types style, products are shown in categories and paged to display limited number of products. Moreover, Module also has many options, so you can easily customize in Admin Panel. Such as: product image size, effect, ways to show products, tool-tip with description, readmore, review...

THEME 1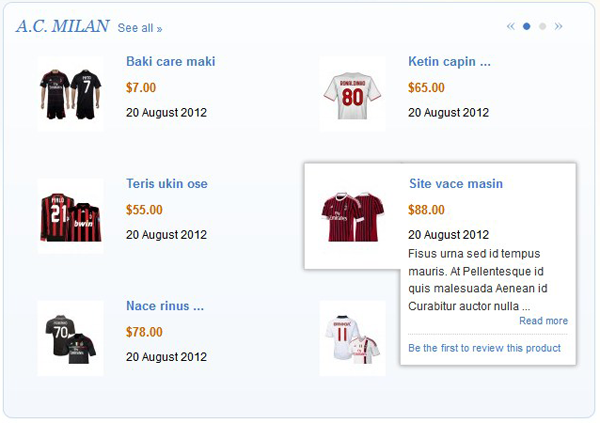 Options:
+ Columns of product: 2
+ Rows of product: 3
+ Images Width: 200
+ Image Height: 200
THEME 2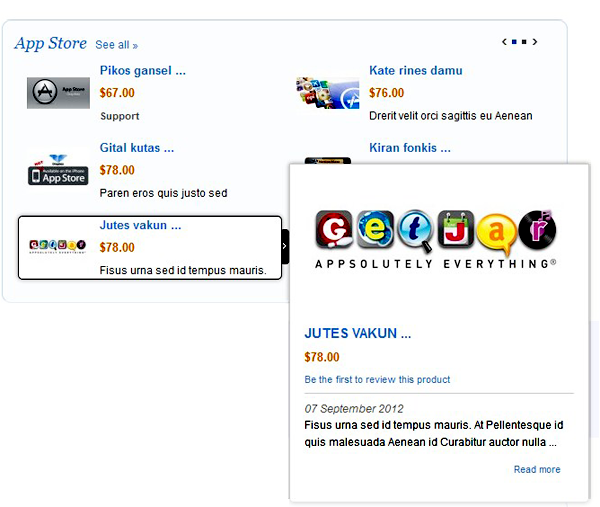 Options:
+ Image Width: 300
+ Image Height: 150
+ Strip html Tags: No
+ Display price: Yes
THEME 3
Options:
+ Item Image Width: 300
+ Item Image Height: 150
+ Max Characters: 100
+ Strip Html Tags: No
THEME 4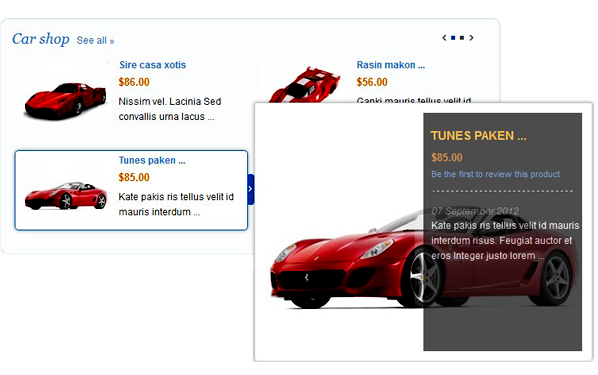 Options:
+ Item Image Width: 400
+ Item Image Height: 300
+ Max Characters: 100
+ Strip Html Tags: No
3.
Admin Panel Configuration
+ Clear and full options.
+ Easy to understand and customize
+ Included:
General settings

Module settings: width module, select theme, link target

Source options: Select categories, product order by, columns, rows of product, product limittion...

Product options: Product images, product title,product description

Another options: display price, review, show all text...

Advance options: include Jquery, pre-text, post text
Here some configuration images:
Module setting with 4 theme options

Source Options: Choose how to display the products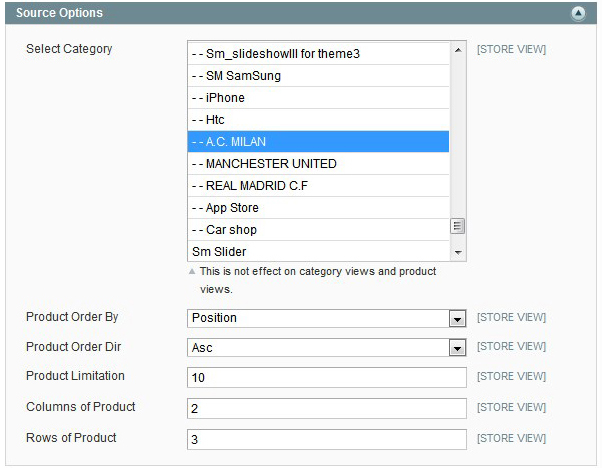 See full cofiguration: Click here