To set up a high-functioning, light-weight, fast-loading and good looking website, you need to find out which extensions for Magento 2 are ideal for 2021 eCommerce sites
1. Elasticsearch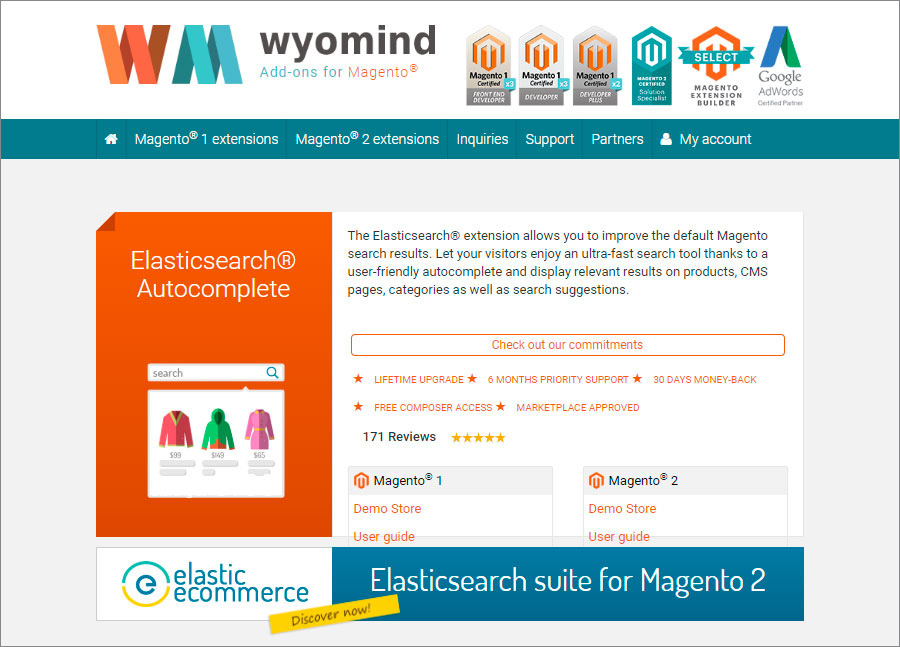 Elasticsearch® is a comparatively new extension by Wyomind that enables the improvement of default Magento search results. It increases the relevance of search results on your eCommerce site offering an enhanced experience to your users.
The ease of finding products always determines the experience of a user. If you are looking for an easy, but effective way to enhance your site's UX to give your site SEO a boost, then Elasticsearch® is your extension!
Here's what you can get with the Elasticsearch® download:
⮚ Priority customer support from Wyomind for 6 months.
⮚ Improved UX with automated suggestions and fast autocomplete during the search.
⮚ Enhanced UX with search features across products, categories and CMS pages.
⮚ Opportunity to search across search attributes.
⮚ Easy handling of thousands of products and ultra-fast indexation.
Elasticsearch® is a comprehensive Magento marketplace-approved extension that is compatible with both Magento 1 and 2.
2. Google Tag Manager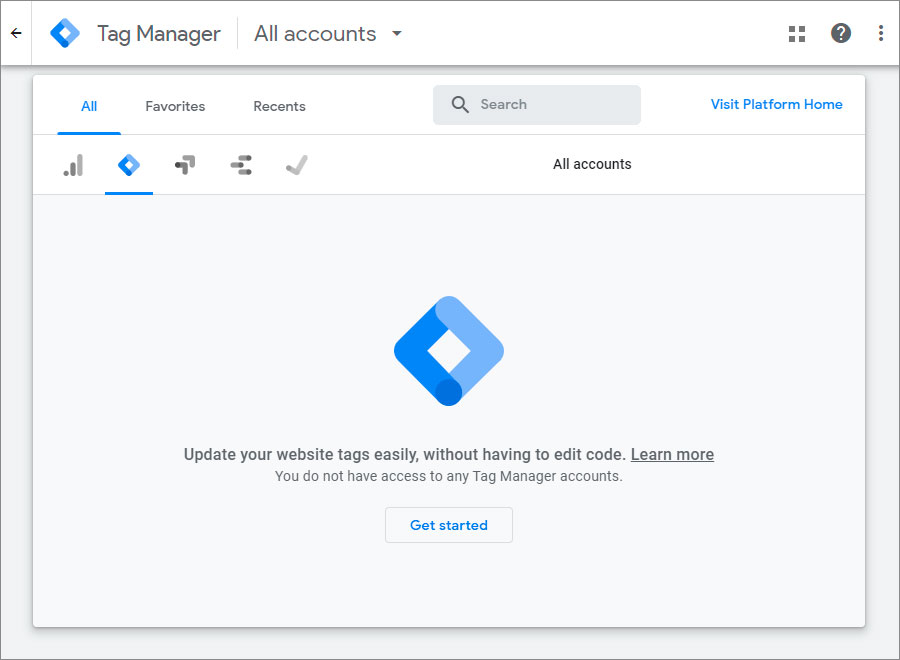 We cannot deny Google's contribution to UX over the years, and the Google Tag Manager by MagePlaza is just one of the Magento extensions that allows you to manage the code snippets on your site used to collect info and send it across to third-parties.
It supplements Google Analytics Enhanced eCommerce, Conversion Tracking, Facebook Pixel, and Google AdWords. The extension allows eCommerce stores to collect consumer data, manage product and shipping data, analyze customer insights and boost the conversion rates.
Here's what you get with the Google Tag Manager by MagePlaza download and installation:
⮚ The Google Tag Manager by MagePlaza will simplify your GTM tags management.
⮚ It supports dynamic remarketing on eCommerce platforms.
⮚ It can support and manage more than 70 distinct types of tags.
⮚ Google Tag Manager is compatible with Magento 2 GDPR and Magento 2 one-step checkout.
3. LiveChat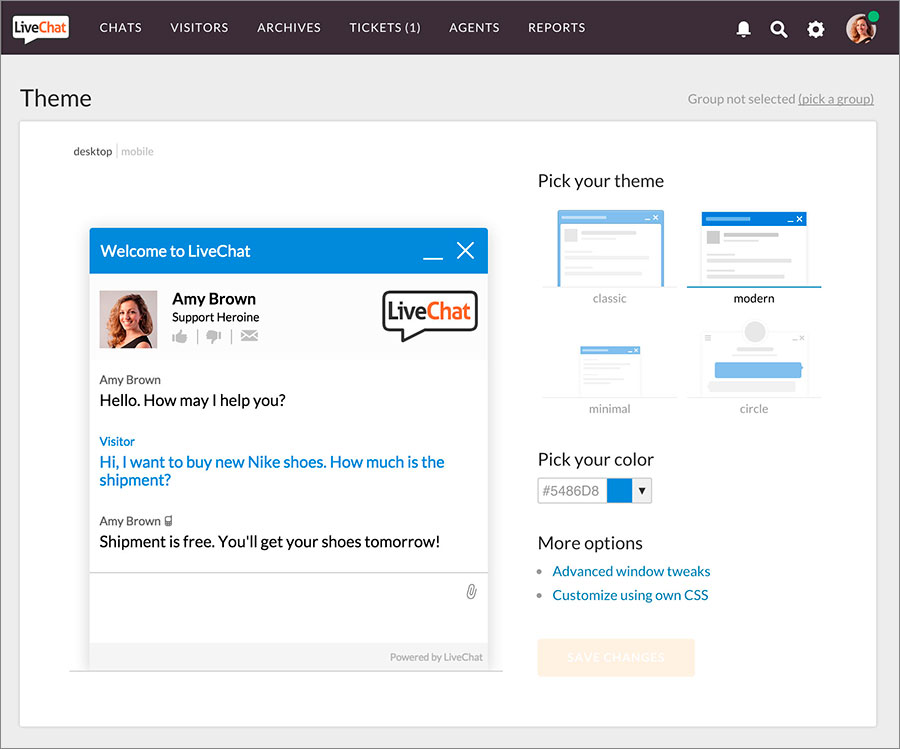 Source: segment.com
LiveChat is a 360-degree customer service platform by Livechatinc. It can automate several tasks and boost your sales in the most organic way possible.
You can download LiveChat from the Magento marketplace for both Magento 1 and Magento 2. This tool is ideal for you if you are looking to upgrade your customer support. LiveChatInc has specifically designed LiveChat to provide personalized experiences to all shoppers and quick answers to customers.
With LiveChat, you can either pro-actively invite your site visitors to chat with you. Or, they can choose to initiate a chat with you when they need assistance.
This is what LiveChat brings on the plate of every Magento user:
⮚ Fully reliable reports and analytics of the web store.
⮚ Robust chat tools, customization options, and customer engagement options.
⮚ A plethora of eCommerce tools like sales trackers, goals, sales information, e-commerce integration and targeting leads from campaigns.
⮚ High-end security with credit card masking and state-of-the-art encryption.
You can deploy LiveChat across the entire Magento site including the checkout page.
4. Full Page Cache
Full Page Cache (FPC) by Amasty can help you speed up your website and improve your Google Rankings. The FPC extension can distinguish the pages, which need to load first and put the others in the queue. Clearing the cache on time can increase the loading speed of your webpages and help you with your SEO efforts.
The FPC ensures that when a visitor comes to a webpage, a version of the page is already ready for display. The page was saved on the visitor's very first visit by the extension and Magento has to work only once.
The Full Page Cache extension is fully compatible with other extensions by Amasty including Landing Pages.
You can enjoy the following features with the FPC extension:
⮚ Decrease your page loading time by caching categories, products, sitemaps, CMS pages, and catalogs.
⮚ Gain complete control over your cache management from generating cache from Magento Admin to defining a cache lifetime.
⮚ You can use a full-page cache instead of using reverse proxy or Varnish.
Currently, the Full Page Cache by Amasty is compatible with default Magento® caches, APC and Magento® compilation.
5. Landing Pages by Amasty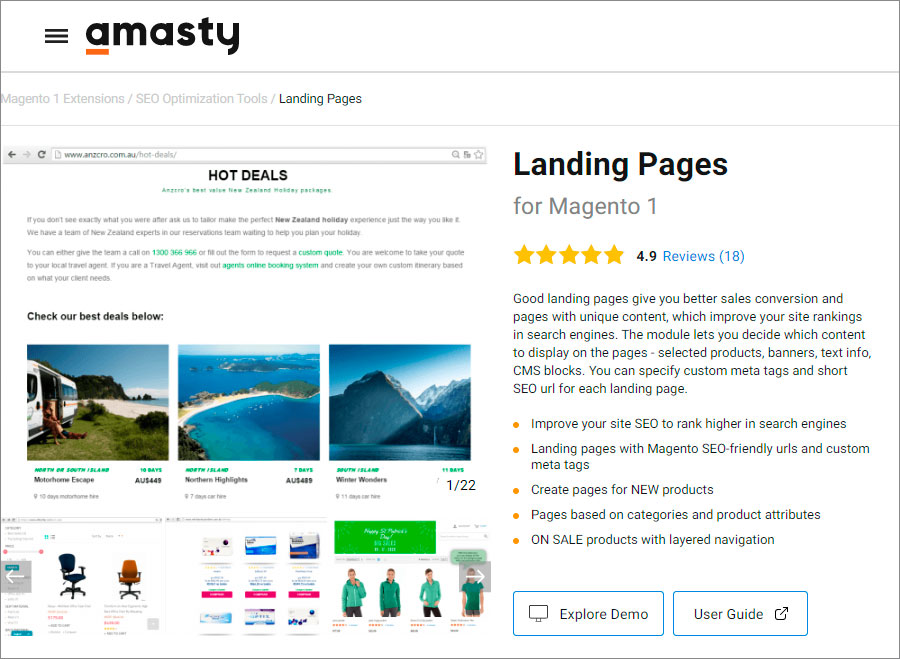 Landing Pages is a comparatively new extension by Amasty for all Store Versions powered by either Magento 1 or Magento 2. This extension allows webmasters to create new pages based on product properties and attributes. You can use highly customizable features to display relevant information on products, promotions, and services.
Landing Pages allows the use of multiple custom design templates for creating the landing pages by importing and exporting them in .csv formats. It supports the Magento multi-store structure alongside creating optimized URLs for the pages.
The Landing Pages is a unique product by Amasty that comes bearing several gifts, including:
⮚ SEO features
⮚ Landing pages for new products and promotions
⮚ Landing pages depending on search results
⮚ Landing pages based on product attributes and categories
⮚ Advanced filters
⮚ Automated product sorting
⮚ Automated product display
Landing Pages comes with free lifetime support and updates for all Magento users. With Magento installing extensions is a one-click affair that does not involve downloading additional white papers, permissions and authentication details.
6. Auto Currency Switcher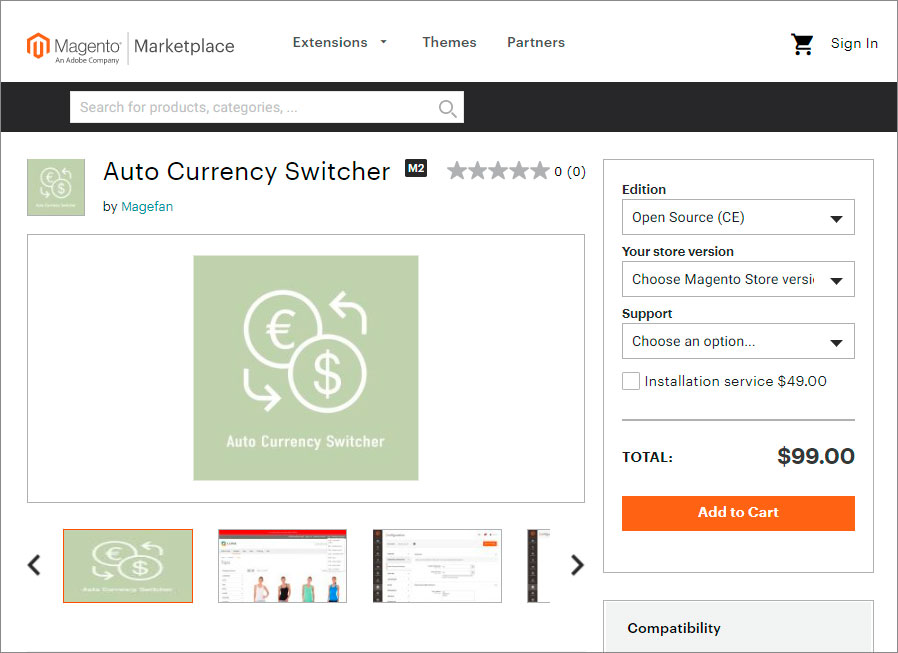 The Auto Currency Switcher or ACS is a must-have extension for all Magento users who have customers across national borders. It allows the visitors to view the price of an item in their local currency despite the origin of the product.
The FME extension product allows the eCommerce platform to track the location (IP) of the user, convert the prices and display the correct amount in their currency.
Here are the set of features the Auto Currency Switcher brings to the Magento user:
⮚ GeoIP database that is included in the default download package of the extension.
⮚ It rounds off the prices of items after conversion depending on the exchange rate.
⮚ It can integrate with the custom themes. It does not interfere with your Magento 2 theme.
⮚ It is compatible with Magento 2 and commerce on cloud/premise.
The Auto Currency Switcher supports auto-update of the currency rates,
7. Knowledge Base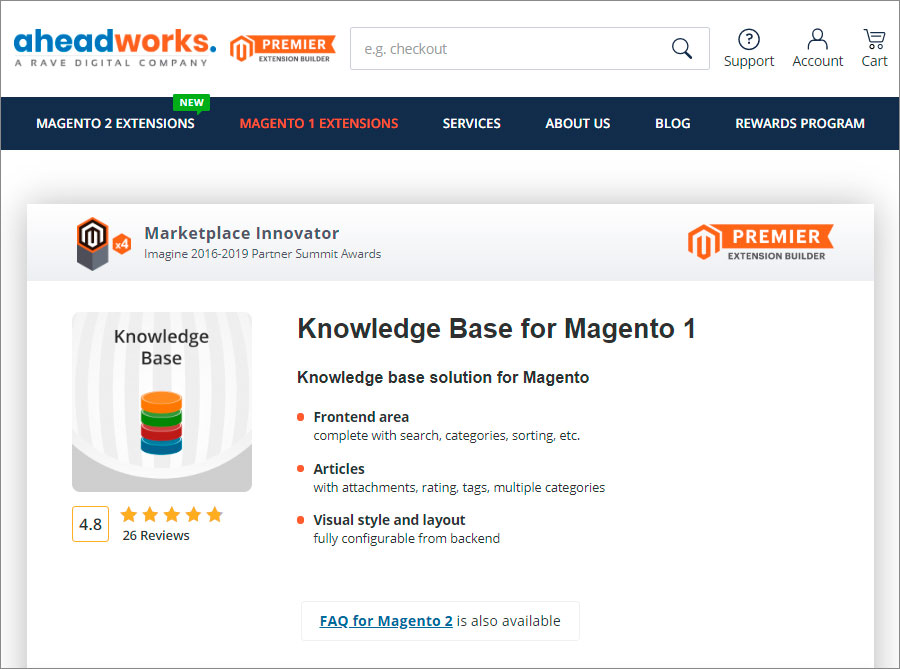 Knowledge Base by Aheadworks is the simplest yet most robust tool you can use to create an FAQ section for your website complete with keywords and tags. The Magento 1 compatible extension is perfect for eCommerce sites that want to enhance their CX by answering the questions their customers most frequently ask on community forums.
Now, you can enhance the UX and conversion rate of your site by using the Knowledge Base extension to:
⮚ Add business value
Provide customers with information that can help them buy products and services from your site.
Show the customers that your team cares about their necessities and queries.
Improve your store rating by asking your customers to share their views on your new FAQ section.
⮚ Configure the backend settings
Set up article search, enable article rating and sort articles based on rating, date, and relevance.
Add tags to every page and control the tags.
⮚ Improve your SEO
Use Knowledge Base to include critical keywords.
Use direct links. Use internal linking and inbound links to your site pages.
Use canonical URLs to the new pages.
The Knowledge Base extension comes with full demo and extensive documentation.
8. Auto Shipping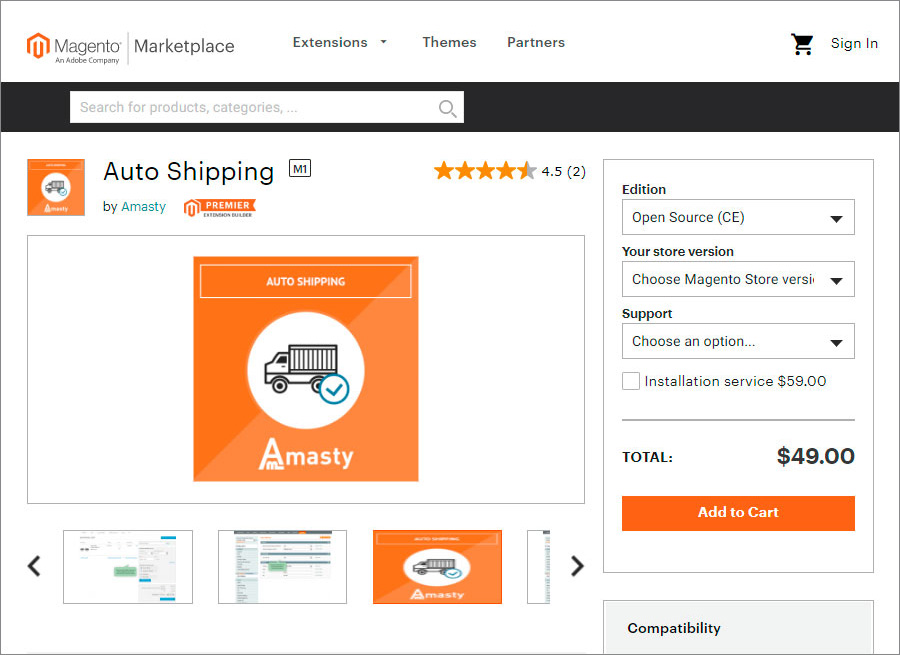 Auto Shipping is yet another highly rated new extension from the Amasty family. This extension is compatible with eCommerce sites powered by Magento 1.
Here's what Auto Shipping can do for your site:
It displays the default shipping methods automatically.
It shows the shipping expense breakdown on the cart.
It enhances the UX.
It allows users to set a default shipping address.
Are you thinking about offering a stellar buying and checkout experience to your customers? Then you should try installing this shipping extension.
These are the following functions Auto Shipping adds to your site –
Setting up the default shipping method and address.
Enabling the geolocation feature to determine customer location.
It is one of the most comprehensive Magento shipping extensions you can use in perfect harmony with other extensions available for download at the marketplace.
9. Braintree Payments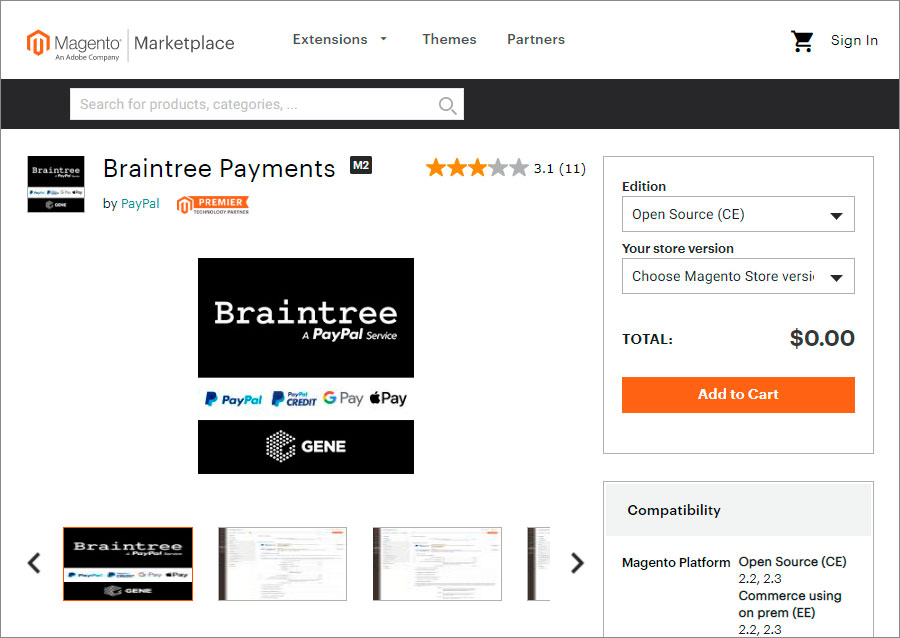 The Braintree Payments extension enables eCommerce sites running on Magento 2 to accept credit card payments. Built-in collaboration with Gene Commerce, Braintree Payments can be ideal for enterprises of all sizes.
The Braintree extension enhances the core Braintree functionality that comes with the Magento 2 package. It updates the Braintree functionality and leverages the latest Braintree SDK function. It is not just another optional extension. All merchants using Braintree integrated with Magento should upgrade to the Braintree Payments extension.
Here are the new features that Braintree Payments can add to your site:
Venom (only US Sites)
3D secure 2
Level 2/3 processing for credit card payments
ACH direct debit (Only US Sites)
Google Pay
PayPal Credit (Only US and UK Sites)
Apple Pay
M1 to M2 stored card migration tool
CVV re-verification option for stored cards
PayPal button customization
Virtual terminal for payment
It expands the payment options for your customers and allows your site to capture paying customers irrespective of the payment methods they have available.
10. Justuno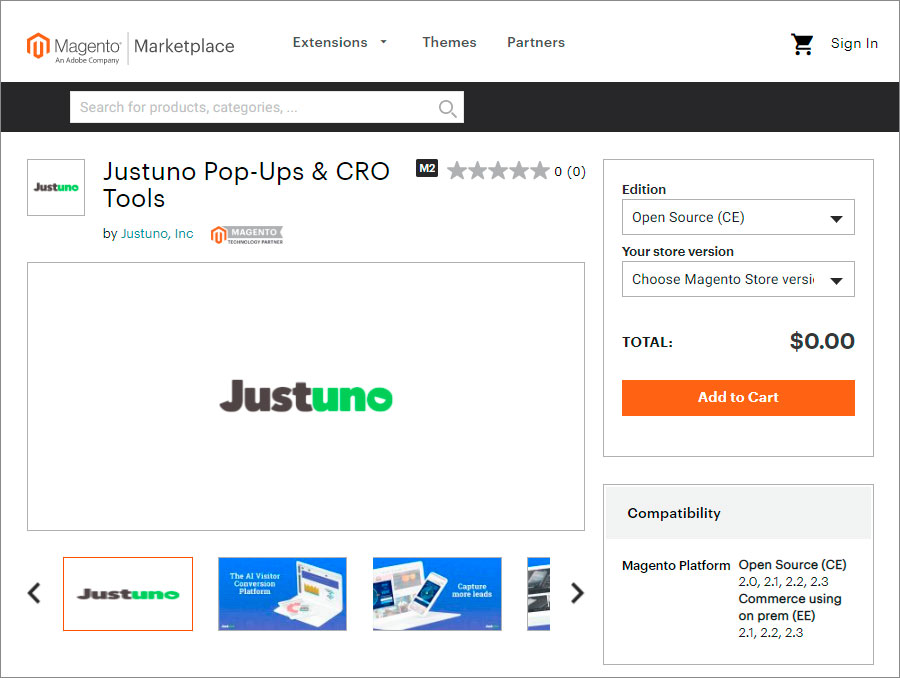 Justuno is an incredible free extension for all Magento users. It is one of the best extensions the Magento marketplace has for customer and conversion rate management. It is an on-site conversion platform that runs on AI. Justuno utilizes billions of data points and offers intelligent lead capture.
Apart from enhancing your site's conversion rates, Justuno will also enable personalized web messaging to communicate with your customers.
Justuno is not just another Magento extension by a fully packed on-site conversion tool.
⮚ It enables intelligent segmentation of customers based on demographics and extant data on them.
⮚ It gives you complete control over banners, pop-ups, and slide-ins.
⮚ It can capture new channels of marketing.
⮚ You can use Justuno to recover abandoned carts and ameliorate your bounce rates.
Justuno can help in upselling and cross-selling, direct integrations and offer insights based on advanced analytics to all eCommerce site owners.
The arsenal of extensions containing these 10 or some of these 10 Magento extensions will enhance your site's functionality and enable your site to capture new customers. Most importantly, the shipping, sales, and conversion add-ons not only enable the acquisition of new customers but the retention of old customers on your Magento site.