Back Office Menu
All pages are now accessible on mobile thanks to the new back office menu! It's based on Bootstrap 4, and it's scrollable.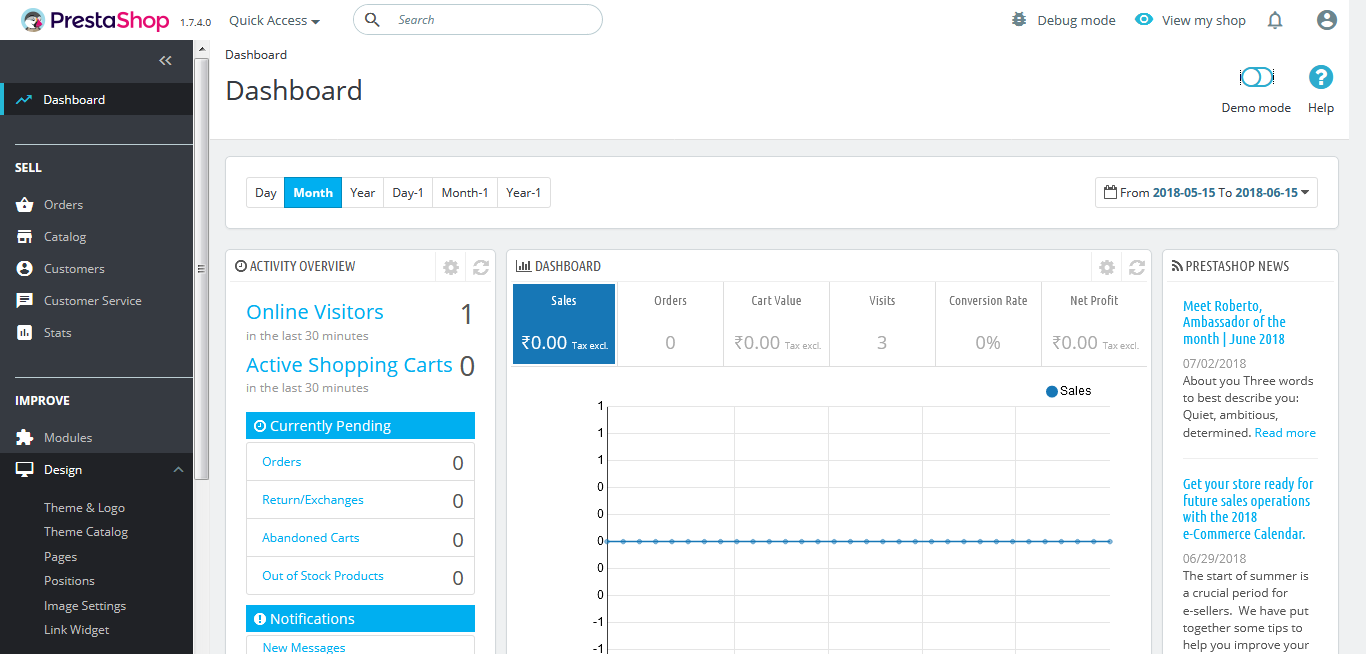 SEO improvements
HTML tags have been improved in the homepage, the product page and the category pages of the "Classic" theme. Better use of titles will help to optimize the SEO. If you are developing themes based on "Classic", please consider to update them! Pages with multiple language versions include "hreflang" links in the "head" section.
Theme Customization
The Theme Customization features can be found in the Design category > Theme & Logo page. It allows any users to customize the homepage.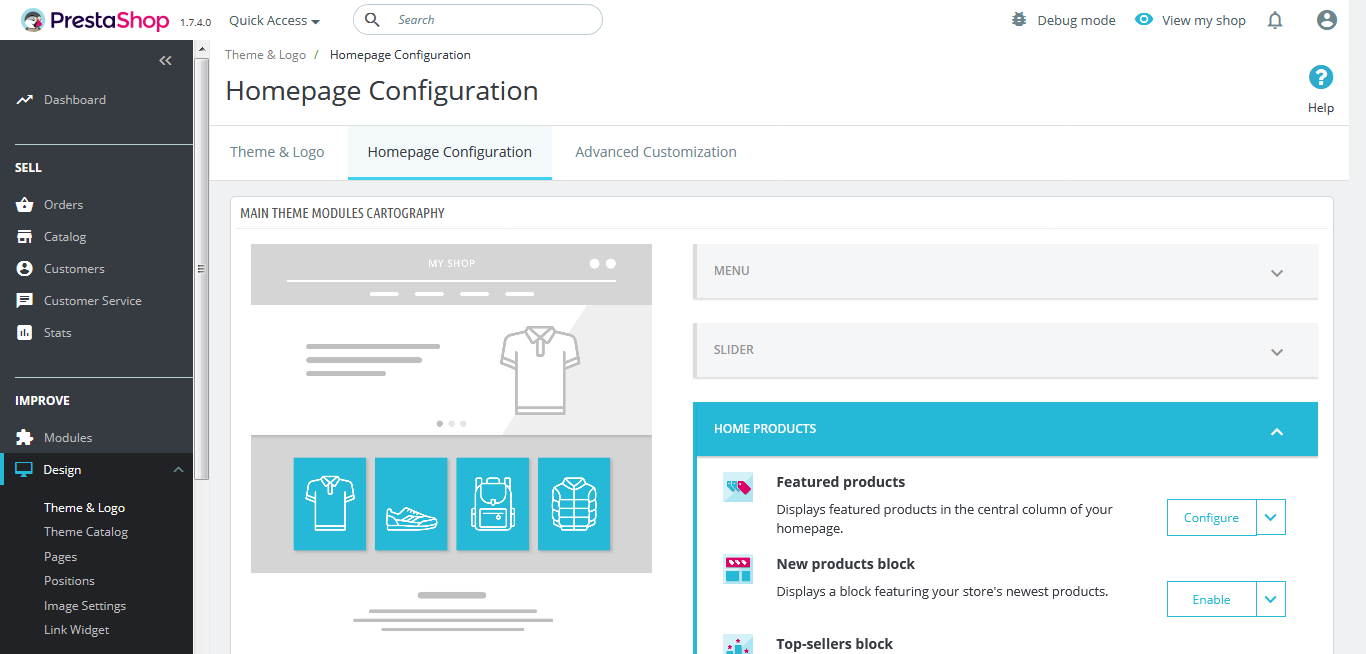 For more technical users, the "child theme" feature to customize a theme has been made easier to access: you can find it directly in "Advanced Customization" tab.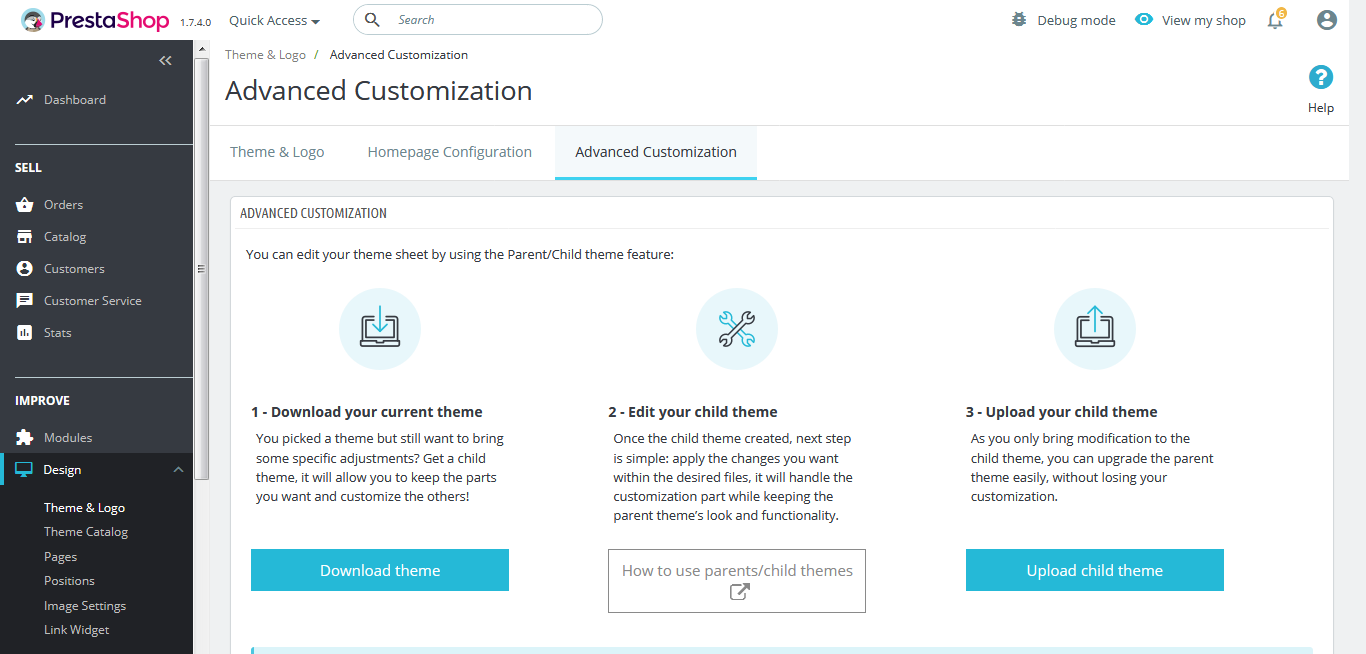 PrestaShop 1.7.4 enables you to download the current theme. You can get a zip of the current theme.
Allow to apply the changes you want within the desired files with the child theme, it will handle the customization part without touching parent files.
Now you can upload your child theme zip. Once uploaded, the child theme will be shown in your Theme & Logo section.
Languages
PrestaShop developers finally added a font to display the specific alphabet of this language in the software, so that PrestaShop can be friendlier for Iran people. And the installation problems for Greek have been fixed.
Refactored cart calculation
The cart calculation has been refactored and several automated tests have been implemented. Merchants and customers will love it to manage taxes, additional costs or discounts; as for developers, they will get new features.
New hooks
Two hooks are now available for developers:
displayDashboardToolbarTopMenu
displayAdminEndContent
Symfony
More pages have been migrated to Symfony:
Advanced Parameters > Administration
Advanced Parameters > Import
Shop Parameters > General
Shop Parameters > General > Maintenance
Shop Parameters > Product Settings
Shop Parameters > Customer Settings
Also, the Switch element (UI) has been introduced in Symfony pages.
Dependencies and requirements
Many dependencies have been updated in 1.7.4:
Symfony has been updated to version 3.4, the current LTS version
The minimum required version of PHP is now 5.6 and PHP 7.2 is now supported
The back office (BO) is now using Bootstrap 4.0.0
PrestaShop UI Kit, based on Bootstrap 4
Our Products
We always catch up with the latest version of PrestaShop in order to carry out the best quality PrestaShop Themes as well as PrestaShop Modules. You can check all of our PrestaShop themes updated to PrestaShop 1.7.4.x here. Let's keep in touch with us to quickly access a wide range of high-performance products now!
Thanks for reading!